<![if !IE]> <![endif]>
Coating robots for System
SOFTBOY PRO coating system
<![if !IE]> <![endif]>
 Robot system for mass-production is to be installed in a continued conveyor line. The peripheral accessories are also suitable for mass-production so that mass-production with the lowest running-cost are achieved.
SOFTBOY PRO Coating System to win the cost competition
<![if !IE]>
<![endif]> <![if !IE]>
<![endif]> <![if !IE]>
 SOFTBOY PRO coating system which TAKUBO ENGINEERING proposes will realize a coating production with low cost, low energy consumption and high efficiency by high-grade control technology with the combination of R-technology, robotic revolving technology (as a core), robot, spray gun, syringe pump the paint supply device, handling device and others.
Features of coating robots for system
<![if !IE]>

<![endif]>
 The robot can be installed on a continued conveyor line. It is a coating robot system for mass-production to aim the lowest running cost and the great efficiency.
Example of system, 3R3C means 3 coatings by 3 robots
<![if !IE]>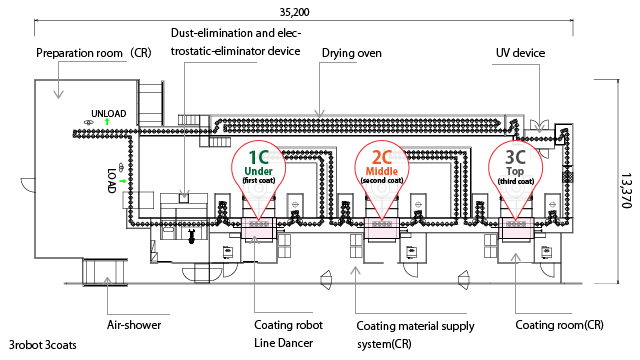 <![endif]>
3R3C: 3 robots are managing 1–coat each.
The coating robot is SOFTBOY PRO M-type Super Spindle 300C or LINE DANCER for use.
The purposes of this coating system for mass-production are to reduce the paint consumption and to realize a high quality production with a low running cost.
It is suitable for super-luster coating like Piano touch
Systematization with DRAGON LINE
<![if !IE]>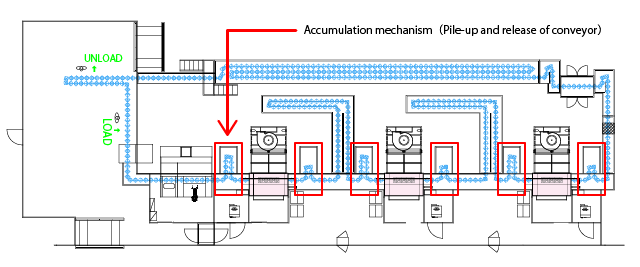 <![endif]>
DRAGON LINE to reduce energy cost
Accumulation mechanism set at the both sides of the booth will stop the line only in the booth.
Stop of the line in the coating booth makes the booth width shorter because the robot does not need to follow.
Smaller booth causes a much smaller energy cost for air supply/exhaust.
DRAGON LINE, the conveyor line with the accumulation mechanism will make a big influence on the coating cost.
Example of system, 1R3C means 3 coatings by 1 robots
<![if !IE]>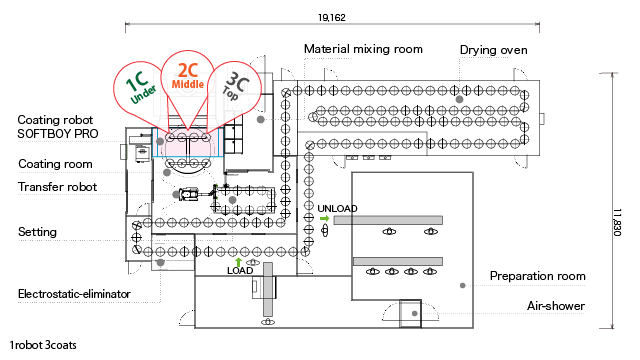 <![endif]>
1R3C: System to make a 3-coat production by 1 robot
In this coating robot, W-turn type with high-accuracy is used for the turn table, and Balance arm type robot is used for the transfer handling. Only one robot can make a 3-coat production while coating and setting repeatedly.
Adopting the color-change system and the high-speed cleaning system, you can make color-change and cleaning operations very quickly, and also the paint consumption volume becomes the minimum as well as waste cleaning solvent is deleted.
It is suitable for a coating with multi-kind and small volume production or with a lot of color-change.
The conveyor line is not polluted by paint because the line is separated from the coating robot.
Compact coating production facility is realized.
SOFTBOY PRO W-turn type is a high-versatility robot so that it can be used not only for full- automation system but also for simple-substance as a batch type.
List of Coating System
Line-up of the coating systems which have some excellent results
Release date: September 9, 2016