<![if !IE]> <![endif]>
Dot Jet Liner 01
(Jetting system)
Inkjet technology to coating technology
<![if !IE]> <![endif]>
Super-accurate application to dents such as emblems Inkjet technology to coating technology. A jetting system that makes the piezo jet head compatible with paint. New technology that brings the wave of digital coating to the coating area
From ink to paint. Precise coating is realized with the piezo jet head.
<![if !IE]>
<![endif]> <![if !IE]>
<![endif]> <![if !IE]>
From inkjet technology to coating technology. Realized ultra-precision painting.
A new coating system with a customized piezo jet head. "Dot Jet Liner" The range of coating has been expanded by making the piezo jet head compatible with paint from ink. Using the mechanism of the piezo jet, which is good at accurate and precise decoration, it is applied accurately and precisely to the emblem dent. The film thickness can also be controlled.
From ink to paint.
<![if !IE]>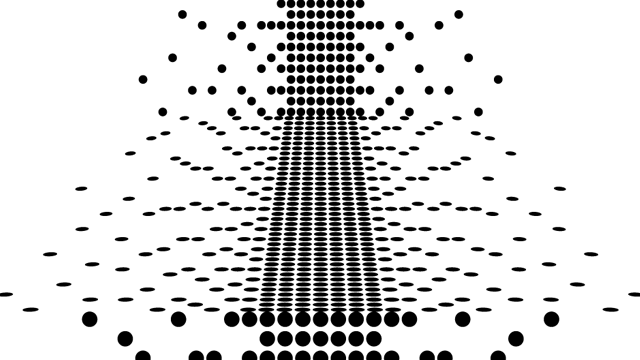 <![endif]>
Inkjet decoration technology for coating. The corresponding piezo jet is customized by changing the ink to paint. Newly developed for coating. By using inkjet decoration technology for coating, it will be possible to reform the production of coating technology in all situations, such as mask painting, concave painting (emblem painting), and silk printing, which have been lossy until now. In addition, since the paint with nano-level particle size, which is the greatest feature of piezo jetting, can be accurately controlled, the paint can be decorated and the range of expressiveness with design is expanded.
Accurate and precise application
<![if !IE]>

<![endif]>
The "Dot Jet Liner" that uses a piezo jet head specializes in more accurate and precise application. It is very easy to apply the emblem to the concave part. Since the nano-level paint is landed accurately, even small recesses can be applied neatly. In addition, there is a dispenser coating method for emblem (unevenness) painting, but there are problems such as paint splashing, squeezing out, and film thickness instability, which causes a large loss in the subsequent correction work process. "Dot Jet Liner" solves these problems and improves productivity.
Numerous applications and effects
"Dot jet liner" using piezo jet head brings various effects.
"Dot Jet Liner" can be applied super-accurately, making it ideal for coating uneven surfaces such as emblems.
● Upgrade mask coating to mask less coating
<![if !IE]>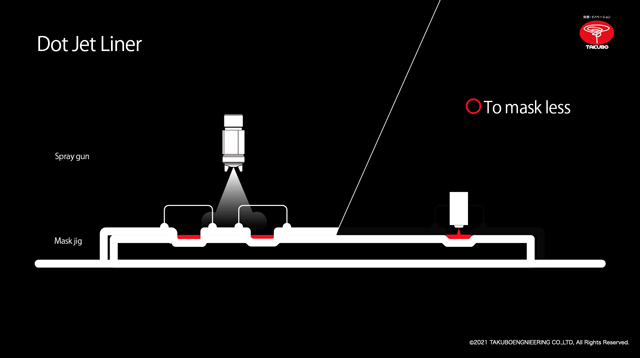 <![endif]>
Mask jigs played an important role in spray painting. However, "Dot Jet Liner" does not require a mask jig due to its accurate coating performance. No mask jig development, management, or spraying process is required.
● Film thickness control
<![if !IE]>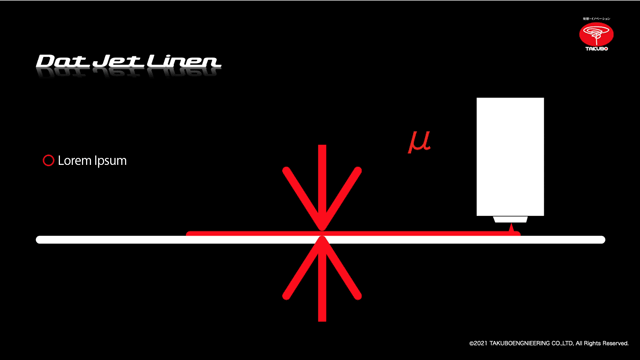 <![endif]>
"Dot Jet Liner" can control the film thickness in μ units. It is controlled in μ units by the method of recoating. There is no lumpiness or non-uniformity like a dispenser.
● No paint loss, 100% coating efficiency
Instead of atomizing like a spray, it jets the paint as nano-level particles. There is no overspray and no painting booth is required.
● Work process can be shortened significantly
<![if !IE]>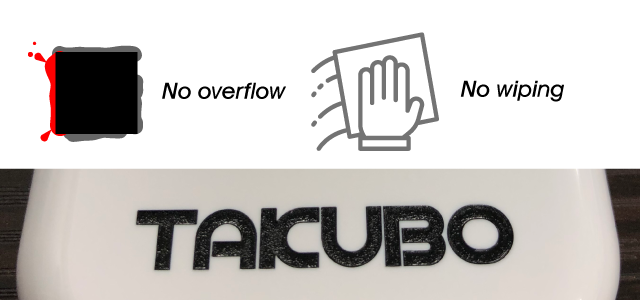 <![endif]>
There is no need for wiping work or jig installation work, and work loss is greatly eliminated. In addition, there is no manual quality variation, desktop production is realized, and the work space is greatly reduced.
Dot Jet Liner
<![if !IE]>

<![endif]>
The paint is controlled on a grain-by-grain basis. Image of dot jetting. Achieves line coating by jetting, which was not possible with spray painting. We named it Dot Jet Liner.
Dot jet liner may not be applied depending on the paint specifications and work size shape.
For more information on Dot Jet Liner, please contact us from this web inquiry page.
Dot Jet Liner is a product jointly developed by TAKUBO ENGINEERING Co., Ltd. and Samurai Spirit Inc.
2021.06.28