<![if !IE]> <![endif]>
Coating Systems
Coating Systems
<![if !IE]> <![endif]>
Here you will find information on systems including the Super Spindle 300C, our standard Super Spindle coating system, and the DATASS-300, a networked coating system with worldwide network connectivity that represents the future of such products.
Lineup
<![if !IE]>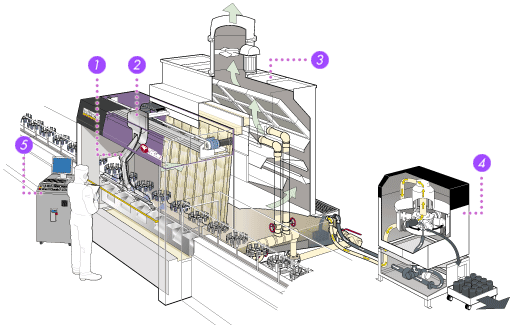 <![endif]>
"Spindle coating" is still the most widely used approach to mass production coating, even today. However, this type of coating system has a lot of serious problems in terms of coating efficiency, coating material consumption costs, required coating equipment, operating efficiency, and overall energy costs. The SOFTBOY PRO SUPER SPINDLE coating system employs coating robots and was developed specifically for coating mobile communications devices such as mobile phone handsets. It is a completely new type of system that provides reduced overall energy costs and excellent expandability.
R05T Automatic Gun and PRO POWER JOINT
Low-Pressure, High-Atomization Automatic Gun。 The PRO POWER JOINT attachment allows multiple guns to be mounted at the end of the Pro Arm. This makes it possible to double or triple the production volume.
Pro Arm
In addition to the standard 1,400 mm horizontal shaft stroke, extension up to 6,000 mm is supported.
OIL BOOTH
OIL BOOTH provides quiet operation (68 dB) and an extended service life of more than 30 years. It is compatible with semi-permanent oil types.
BOSS2000 (Sludge Solidification Processor)
Solidifies coating sludge into small pellets using centrifugal force of approximately 1,600 G and returns clean oil to OIL BOOTH. Solidifying sludge substantially reduces waste disposal costs.
Pro Control Panel
The control block employs a standard factory-specification PC.
The Deka-Nuri Pack custom software supports teaching in a minimal amount of time. The system stores all the settings, including teaching data, coating conditions (spray volume, atomizing pressure, pattern pressure), work name, production date, and production volume. These saved settings can be distributed easily by e-mail, etc., and used with any SOFTBOY PRO system anywhere.
The system also controls the SP01exp syringe pump coating supply system. This facilitates precise management of the coating material consumption volume.