<![if !IE]> <![endif]>
Dragon Line
Conveyor Line with Accumulation Mechanism
<![if !IE]> <![endif]>
This conveyor line uses dragon-like movements to reduce climate control costs. It allows for mass production while keeping the overall system compact in size.
<![if !IE]>
<![endif]> <![if !IE]>
<![endif]> <![if !IE]>
The Dragon Line conveyor system allows the configuration of accumulator-type conveyor chains on both sides of the coating robots. Its name derives from the way the movement of the chains evokes the movement of a mythical beast, the dragon.
Features
Reduced climate control energy consumption
Takubo chose an accumulator-type system to allow continuous conveying of work outside the coating booth while the line stops temporarily inside the booth. This arrangement allows the line to move at a constant speed overall, with the work stopping only when coating is performed. Productivity can be increased without greatly increasing the exhaust volume from the coating booth.
Achieving mass production with a compact system
The lines stops during coating, so the gun does not need to follow the work when applying the coating material. This allows the high quality made possible by the Super Spindle to be maintained and keeps the size of the coating booth compact.
If it is necessary, for example, to make use of existing equipment while switching to high-volume production, the number of guns can be increased and the production volume boosted without greatly enlarging the booths.
Structure of Dragon Line
<![if !IE]>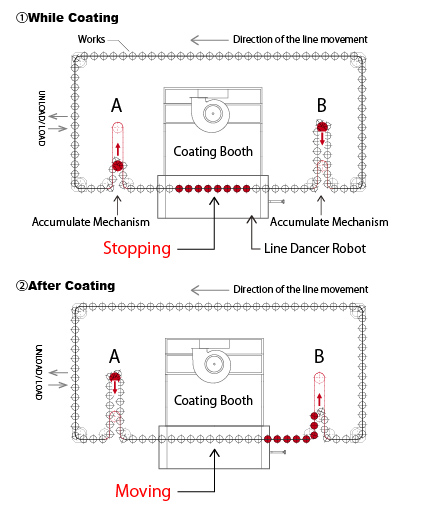 <![endif]>
① The work pieces are stopping while coating as well as the Accumulate Mechanism A starts convection. At the same time, the Accumulate Mechanism B releases convection.

② After coating, the Accumulate Mechanism B starts convection we well as the Accumulate Mechanism A releases convection. The conveyor moves at high speed in front of the coating booth.
Comparison with Super Spindle 300C line
Performance comparison
<![if !IE]>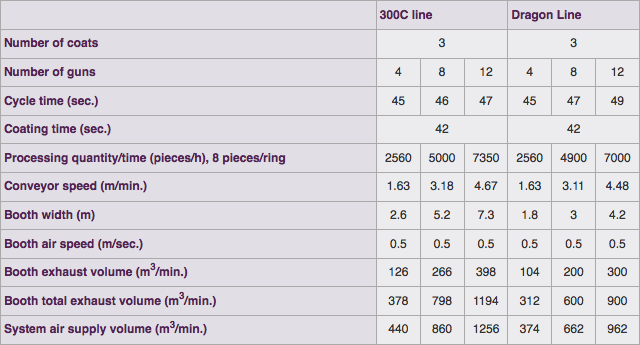 <![endif]>
Ratio of production volume to climate control energy
<![if !IE]>

<![endif]>
Table 1: Comparison between Conventional system (300C Line) and DRAGON LINE in 3-coating with 4-gun, 8-gun, and 12-gun Table 2: Ratio of Production Volume and Air-Conditioning Energy based on the case of 4-gun system in Table 1
Graphical View about Reductions
<![if !IE]>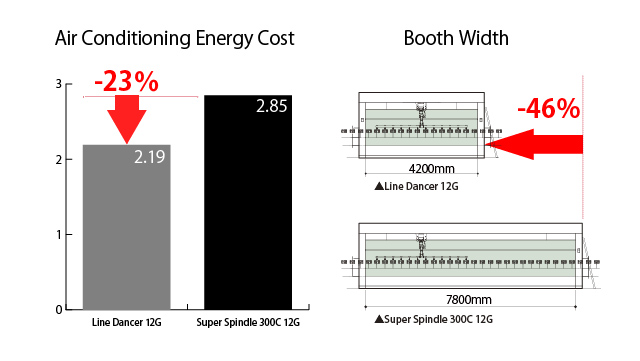 <![endif]>
Left: Comparison of AC Energy Cost as 1 for Super Spindle 300C with 4 Guns
Right: Comparison of Booth Width between Line Dancer with Dragon line and Super Spindle
Even in the same condition robot with 12 guns, Dragon Line can make a booth width much shorter and also can reduce air conditioning energy cost.