<![if !IE]> <![endif]>
Mosscoat Panel®
(Panel For roofs)
Light weight and Thermal Barrier Panel for Roof and Wall
<![if !IE]> <![endif]>
Mosscoat Panel is the Plant quality, Light weight and Thermal barrier panel for environmental issues, in which living moss is combined by the new developed inorganic coating material.
<![if !IE]>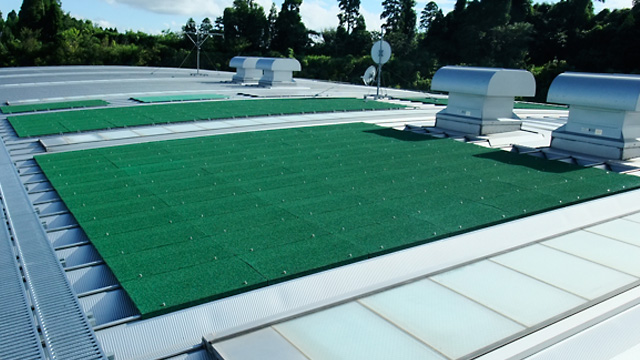 <![endif]>
<![if !IE]>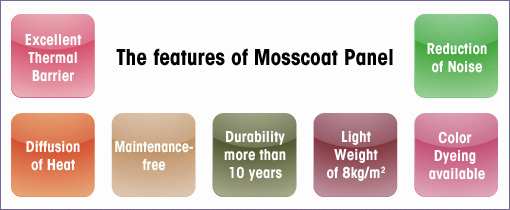 <![endif]> <![if !IE]>

<![endif]>
Mosscoat Panel is a Plant Quality Panel, in which Mosscoat, the plant quality coating material with the combination of Inorganic Coating Material and Moss (Racomitrium canescens), is coated on Plating Steel or Stainless-steel Sheets. As building panel the Mosscoat panel is suitable for roof, exterior and interior wall. Setting the Mosscoat panels on the roof or wall, the Thermal Barrier Effect contributes to reduction of the energy cost for air conditioning, and also there are substantial scene improvement and design effect. The surface of steel sheets actually looks like coated by Moss because Mosscoat and panel are just unified and completely different from the net fixing method.
*Plant Quality Panel is a Plant specification panel like Wood quality and Stone quality.
Excellent Thermal Barrier Function!!
<![if !IE]>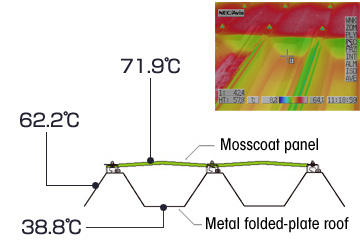 <![endif]>
| | |
| --- | --- |
| Time/Date: | 12:45 on July 4 (Sun), 2010 |
| Surface of roof without the panel: | 62.2℃ |
| Backside of the Mosscoat panel: | 71.9℃ |
| Surface of roof under the Mosscoat panel: | 38.8℃ |
| Thermal Barrier Effect: | 62.2 - 38.8 = 23.4℃ |
Features
Excellent Thermal Barrier and Environment Friendly
Substantial Energy Reduction for air conditioning by setting on roof because of the excellent thermal barrier effect
Diffusion of Sunshine and Heat by setting on roof and wall
Superior Economy
Using the moss (Racomitrium canescens) which is very strong in drying, maintenance such as sprinkling and trimming off is not required.
Execution is very easy because of the unified panel of steel, inorganic super-weather ability coating material and moss. Lower construction cost
Thermal Barrier Effect reduces energy cost for air conditioning and also contributes total cost reduction
Durability more than 10 years
High Safety
Light weight with only 8kg/m2. Almost no burden to the roof structure
Incombustible and Smokeless structure because of Steel and Inorganic Coating Material
<![if !IE]>

<![endif]>
Scene Improvement
Color Dyeing is available. Creation of various designs
Application example of Mosscoat panel
for Roof Thermal Barrier
Setting Mosscoat panel on metal folded-plate roof
Saving energy by thermal barrier effect
<![if !IE]>

<![endif]>
Usages of Mosscoat panel for Roof
<![if !IE]>

<![endif]>
Roof of domestic animal houses for pigs, cows and chickens. Roof of factories. Roofs of warehouses and offices. Roofs of convenience stores and family restaurants. Also it is suitable for slate roof and metal folded-plate roof.
Exterior Wall
Mosscoat panel on the exterior wall
Scene improvement, Prevention of building deterioration
<![if !IE]>

<![endif]>
Interior Wall
Mosscoat panel on the interior wall
Safety structure with Incombustible and smokeless by Steel and Inorganic Coating Material, and Healing Space
<![if !IE]>

<![endif]>
Size and weight of the panel
| | |
| --- | --- |
| Dimensions | 500 mm × 885 mm |
| Weight | about 4 |
Specifications / Price (Mosscoat panel for Roof)
Mosscoat Panelis a registered trademark of TAKUBO ENGINEERING Co., Ltd.