<![if !IE]> <![endif]>
Automotive Wheel
(SOFTBOY PRO W-Turn 4top)
[ Automotive Wheels ]
<![if !IE]> <![endif]>
This is a coating system exclusively for automotive wheels in which the newly developed IH Induction Heating drying system "Jou-lo" is incorporated.
Substantial reduction of the lead time, miniaturization of the facility, and Environmental correspondence etc have been achieved by the latest system technologies. The conventional Camel Back Oven with hot air by gas will be replaced by this newest coating-drying system.
<![if !IE]>
<![endif]> <![if !IE]>
<![endif]> <![if !IE]>
Short time drying at high temperature
<![if !IE]>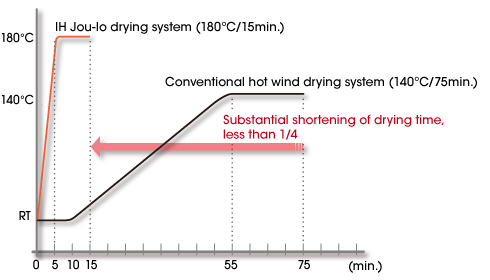 <![endif]>
In general, a conventional coating system for automotive wheels uses Camel Back Oven with hot air by gas. In case of an aluminum wheel, for example, it takes 75 minutes at 140℃ for drying. IH Jou-lo drying system for automotive wheels can make it only 15 minutes at 180℃. It is a substantial shortening of the drying time, that is, about 1/4 of the conventional system.
Floating garbage and environmental issues
This coating system for automotive wheels can solve the big problems such as floating garbage in coating and drying, and also can reduce the number of defects like foaming and pin holes. In addition, since the new system does not have a large oven like the conventional Camel Back with hot air by gas, it can reduce emissions of VOC and CO2, and then does a big contribution for prevention of global warming.
Only one robot can do 1 to 2 coatings flexibly
<![if !IE]>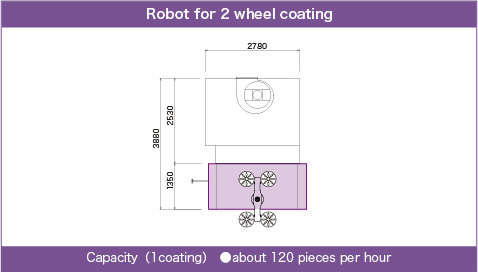 <![endif]>
Using the special feature of SOFTBOY PRO's ceiling suspended style, only one robot can coat two wheels simultaneously with 2 to 4 guns on the robot. Furthermore, it is possible to have a flexible production of 1 coating or 2 coatings. It also eliminates time loss for the color changes and preparations, reduces paint consumptions and miniaturizes the facility very much.
Miniaturization of facility
Only one robot can coat 2 wheels simultaneously. Then you can choose one coating or two coating operation so that reduction of the space is possible. Furthermore, the drying facility is miniaturized because of IH Jou-lo. Successfully the scale of the new system is about 1/4 of the conventional coating facility's. The large cost for air conditioning with multiple robots and booths is reduced substantially because of the system with only one robot and one booth.
*The data of drying time and others are in our company's test
*The scale of facility is different according to the production volume.
*Reduction values and so on are not guaranteed.
*IH Jou-lo sometimes needs prior tests and specific design of the coil for drying efficiency.
2011-03-04