<![if !IE]> <![endif]>
Door Mirror 1R2C e.g.
(SOFTBOY PRO W-Turn 8top 1R2C)
【Outside Door Mirror 2-Coating by 1-Robot】
<![if !IE]> <![endif]>
Using SOFTBOY PRO W-Turn with 8-top. Coating system where only one robot can manage 2 coatings. Reduction of color change time and decrease of coating material consumptions can be realized.
Coating System exclusively for Outside Door Mirror, to realize high luster film coating for outside door mirrors
<![if !IE]>
<![endif]> <![if !IE]>
<![endif]> <![if !IE]>
Robot uses W-turn with 8-top, in which a robot has 4 guns (4 times 2). It can correspond to the work with a lot of color change since high-speed color change system is installed. It is a coating system with middle production volume exclusively for outside door mirrors to reduce the coating cost and to decrease the time for color change and program change.
Features
Reducing color change cost
High-speed color change valve
High-speed color change valve is set on the power joint so that it takes only several seconds for color change.
Substantial reduction of cleaning liquids
Syringe pump system
Original pump system can make an easy cleaning maintenance and also can reduce cleaning liquids substantially.
R-technology brings a mass-production with stable coating film.
R-technology
Revolving jigs for outside door mirror parts are originally designed by model. Waste robot moving is gone, and furthermore the stable coating film with a mass-production volume by revolving coating is realized by setting detailed conditions about spraying.
Using SOFTBOY PRO with W-turn type
W-turn with 8-top type
W-turn type robot is adopted in order to prevent dirt on the line and jigs in case the line has a lot of color change. Because the turn table of W-turn is designed with high accuracy, it is very good at combination with a handling robot. It means a completion of a compact mass-production system.
Clean room system
Prevention of dust inferiority by class 10,000 level
Clean room system with class 10,000 level is installed in a coating room. It always keeps stable temperature/humidity environment to make higher grade film performance. It is also acceptable for the very severe quality control of automobile parts.
Reference layout
System layout
<![if !IE]>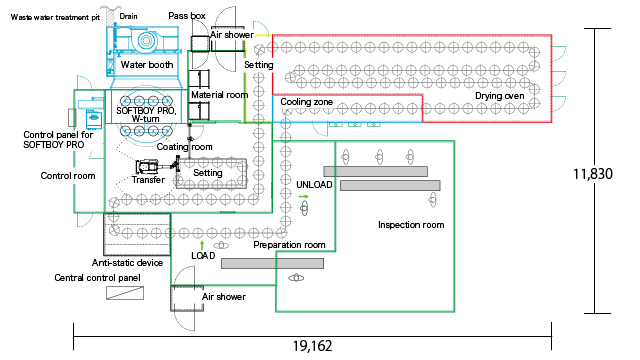 <![endif]>
Coating process
<![if !IE]>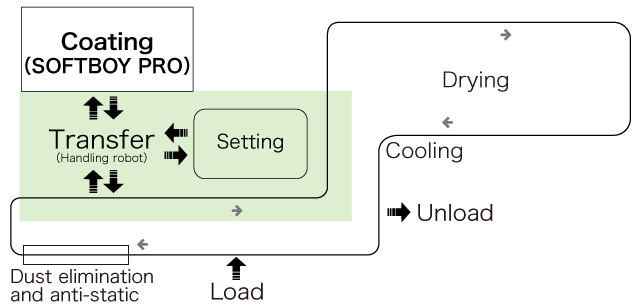 <![endif]>
Outside door mirror, 2-Coating System
Specification
| | | |
| --- | --- | --- |
| Coating material consumption | 5 pcs/ring | Work mounting number per a circle jig |
| Gun number | 4guns | per 1 robot |
| Work name | Outside door mirror cover | ー |
capacity
| | | |
| --- | --- | --- |
| Coating time | About 6.25 sec | (Coating time per one piece) |
| Coating material consumption | More than about 10cc/p | Coating material consumption per 1 work piece (1 coating) depending on the shape |
| Production volume | 576pcs/h | (Production volume per one hour) |