<![if !IE]> <![endif]>
Line production coating system
SOFTBOY PRO coating system
<![if !IE]> <![endif]>
This is a mass-production type coating system, in which SOFTBOY PRO, the coating robot, is built in a continuous conveyor line. Peripheral instruments accompanying are also designed for a mass production so that both mass production and the lowest running cots are realized.
High-efficiency coating system with low energy cost and excellent mass-production effect
<![if !IE]>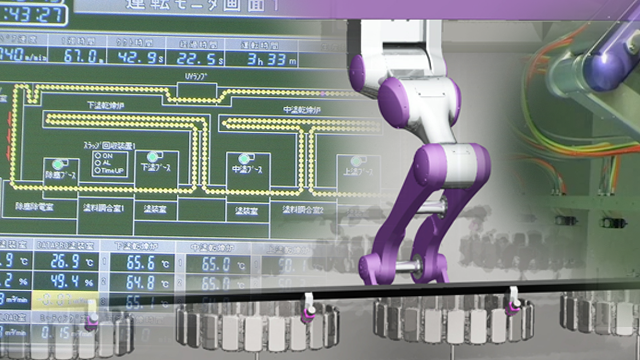 <![endif]>
SOFTBOY PRO coating system is an automatic coating system by the dedicated coating robot, SOFTBOY PRO, developed with the design to improve production efficiency and to consider reduction of total energy cost, quality, material cost and efficiency totally. Keeping R-technology completed by high-grade control technology as a core, it realizes high-quality coating with very low paint consumption, and also clean room system to decrease dust defect and temperature control system to influence coating film performance are designed. Furthermore, DROGON LINE with accumulation mechanism is developed in order to reduce energy cost. Taking the advantage of ceiling-suspended structure, which is a big feature of SOFTBOY PRO, the productivity per 1 robot is improved so much by multiple gun loading. It is a coating system to reduce total energy cost.
Lineup
Conveyor Line with Accumulation Mechanism

for System

This conveyor line uses dragon-like movements to reduce climate control costs. It allows for mass production while keeping the overall system compact in size.

SOFTBOY PRO coating system

for System

 Robot system for mass-production is to be installed in a continued conveyor line. The peripheral accessories are also suitable for mass-production so that mass-production with the lowest running-cost are achieved.

SOFTBOY PRO Coating System to win the cost competition
Features
Dedicated coating robot arm (LINE DANCER M-type)
<![if !IE]>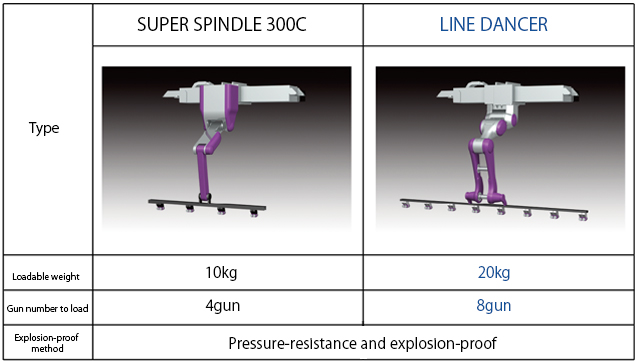 <![endif]>
Loadable weight
Pressure-resistance and explosion-proof structure, new type robot arm
Maximum loadable gun is 16.
Controller
Installation of FA-PC, management type application
Numerical control for condition setting and coating data
Possible to control any coating cost including paint use volume, coating time and so on
Easy teaching software with just input of a few points, KEITAI-PAC (Disk pack), DISC-PAC (KEITAI-PAC)
It will make a complex teaching work very simple to improve workability.
Conveyor line to save the energy cost
<![if !IE]>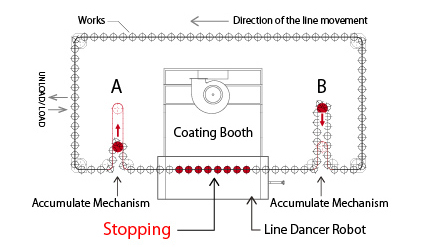 <![endif]>
Dedicated coating development, DRAGON LINE
Conveyor line to stop the line partially in front of the robot. The accumulation mechanism located both front and back of the robot booth can make the work components stop in the booth since both accumulation and release of the conveyor are executed at the both sides of the booth simultaneously.
Stop, CW and CCW rotation. Original developed rotation mechanism. The line with original rotation mechanism is equipped on the line in the booth so that the revolving coating is possible even on a continuous line.
Paint supply equipment
<![if !IE]>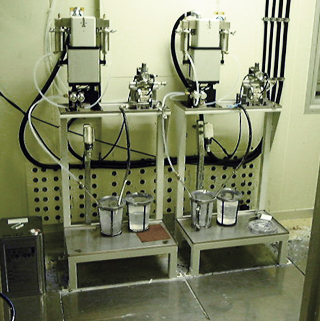 <![endif]>
Explosion-proof type syringe pump
It can precisely control paint volume in 1cc unit to reduce wasteful paint consumption.
It supplies certainly and precisely the paint to each gun reducing wasteful paint consumption.
One syringe pump can supply to maximum 8 guns.
Dedicated automatic gun
Original automatic gun with the excellent atomizing performance at low pressure
Small and light-weight, no direct hose connection with gun, and easy maintenance work
Safety and security, perfect explosion-proof type
You can select depending your work components and production volume.
Divided into two coatings, which are many color-change coating and mass-production coating.
<![if !IE]>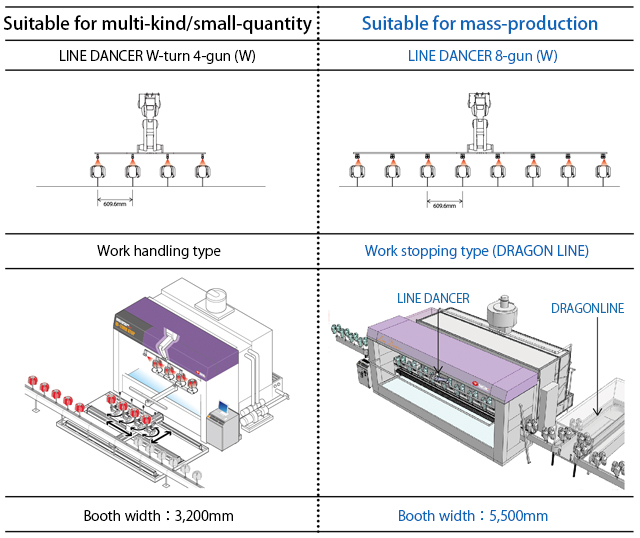 <![endif]>
Robots suitable for multi-kind/small-quantity or multi-color production: SOFTBOY PRO LINE DANCER W-turn (M-type arm) Robots suitable for mass-production: SOFTBOY PRO SUPER SPINDLE 300C (S-type arm)
Features of the line suitable for multi-kind/small-quantity (Left on the drawing)
W-turn type SOFTBOY PRO; the handling device installed in front of LIN DANCER robot will transfer work components from the line to the robot to make a coating production.
Conveyor line will be kept clean because the line does not become dirty by paint. It is really suitable for many color-change or model-change productions.
Only one robot will be able to continuously manage multiple coatings more than 3 coatings by additional color-change system.
Features of the line suitable for mass-production
Continuous coating production is possible by following the continuous automatic line.
Coating booth can be become smaller by installation of DRAGON LINE, in which stopping work components are coated by the revolving coating method.
Suitable for mass-production of mobile phones, smart phones, mobile parts and son on
One robot system of LINE DNACER, SOFTBOY PRO, or SUPER SPINDLE 300C with multiple guns will make it possible to produce more efficiently and at low cost.
Difference of robot by purpose
Difference by the coating separate from the line or the coating on the continuous line
Installation of TURRET GUN will color-change and set-up change much more quickly and also will improve workability and productivity so that the coating cost is reduced very much.
Advantages of robots by purpose
Coating type separate from the line has an advantage to keep the line clean. It is very useful for the coating productions of work components with multi-color and multi-kind, or thick coating film parts, or automotive exterior parts such as outside mirrors.
In case of the coating on the continuous line, the reasonable mass-production by the revolving coating will become possible. However, because the energy cost for air supply/exhaust is increased by a bigger booth due to multiple gun loading on the robot, we will recommend to install DRAGON LINE. Installation of DRAGON LINE with accumulation mechanism will make the booth much smaller because the line can stop only in front of the robot so that the mass-production with very low energy cost becomes possible.
Options / Related Products
Machines suitable for automatic line productionLink to product page
Renewal date: August 25, 2016