<![if !IE]> <![endif]>
Oil Booth and others
<![if !IE]> <![endif]>
Q&A about general items regarding peripheral equipment such as Oil Booth, DRY TEC and others are described.
Peripheral Equipment Q&A
<![if !IE]>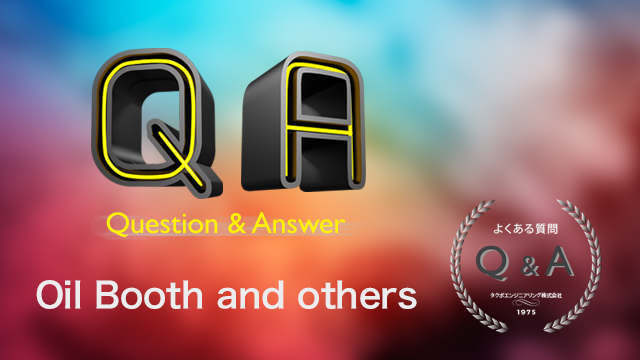 <![endif]>
Q&A about Oil Booth
Q. What is difference between Oil booth and Water booth?
<![if !IE]>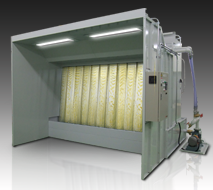 <![endif]>
A. Basically Cleaning solution and Collection method of over spray are different. The cleaning solution of Oil Booth is a dedicated mineral oil (TABO-OIL), and the oil collects the over spray mist. On the other hand, industrial water is used in general Water Booth so that the collection efficiency is accelerated by water film and high-speed air-flow. The advantages of Oil Booth are no-rust, quiet, long life, and no need for wastewater treatment facility. The disadvantage is not to be suitable for some specified paints (a lot of baking paint and UV paint) depending on the discharge volume quantity (in such a case, some facility arrangement will be required). The advantage of Water Booth is a cheap price, and the disadvantages are rust problem, corruption and corruption odor of water, noise, limitation of setting location due to wastewater treatment facility. ※TABO-OIL is exclusively for Oil Booth and our original product.
Q. Is there a sludge collection device suitable for water booth?
A. Yes, there is a sludge collection device for water booth. But the sludge collection device, BOSS2000, is used only for Oil Booth. Please consult with us.
Q. Does the oil for Oil booth burn?
A. Accidents such as fire, in which the oil of Oil Booth burns, have never happened before. The flash point of the original dedicated oil, TABO-OIL, used for Oil Booth is 200℃ and the burning point is 287℃(in case of TABO-300). The oil does not fire unless it becomes at 287℃. Even if the surrounding building becomes a fire, the oil will never burn (only the steel panel of the oil booth might burn a little). Considering this high burning point, we are using the oil for coating. ※The flash and burning points change depending on the imported petroleum specifications. Please check SDS(MSDS) of the oil.
Q&A about Dust-elimination booth
Q. Is there any dust elimination booth to use in a clean room?
<![if !IE]>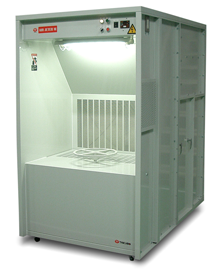 <![endif]>
A. Yes, we have the dust-elimination booth, Air Jetter Mini, which is a very compact size dust-elimination booth. This is a duct-less booth with exhaust circulation mechanism. It is possible to use in a clean room of class 10,000 by using high-performance HEPA filter. It is a movable type with castors so that you could move it in the clean room. Explosion-proof lighting is also attached.
Q&A about general matters
Q. Is it possible to install TAKUBO's Color Change System on other company's robot?
A. Yes, it is possible. There is no problem in terms of hardware, but it might be required to prepare additional control device such as system controller separately. Basically our products are developed and designed the most suitable to use with our own products. However, we have some products or system to be able to use independentlu or with the products of other companies somehow. Please ask us.
Release date: July 4, 2017