<![if !IE]> <![endif]>
UV Jet Line
UV Coating Machine for Hard-coating
<![if !IE]> <![endif]>
UV Coating Machine with Low Energy Cost and Low VOC Emission Ink-Jet Head
<![if !IE]>
<![endif]> <![if !IE]>
<![endif]> <![if !IE]>
 UV Jet Line is a coating machine exclusively for UV Top-coating, in which UV Coating Film can be made at high speed by the special Head dedicatedly for UV-coat agent. UV Coating Film can be made only on the necessary area at a pin point. It is a compact and epoch-making UV Coating Machine useful exclusively for Top-coating.
UV Jet Line
<![if !IE]>

<![endif]>
Functional Overview
 What you need for operation is only picture data and special coating agent. Blowing off liquid drops correctly to any places on the flat surface of the moving work makes UV Coating on a picture drawn by PC. Because the liquid drops can be coated exactly along by any complex picture, there is no waste, and also masking is not necessary. Large local exhaust is not required due to very few spattering. It is possible to take stand-alone area into a line because of module-type.
Features of UV Jet Line
<![if !IE]>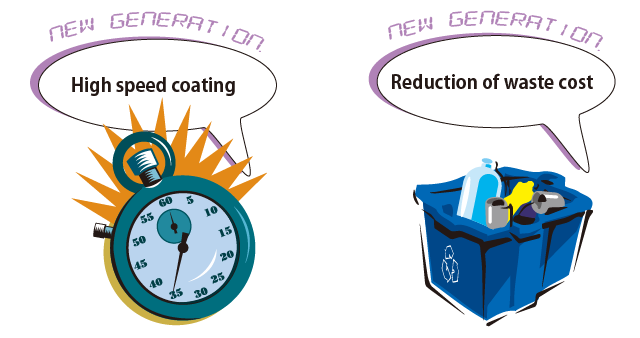 <![endif]>
Realization of Pinpoint UV Coating Film
Possible to make a pinpoint UV coating film only on the necessary place
Single shot can realize a Hard-coating
Original Hard-coating agent, "Dot-lon", makes the best Hard-coating film.
High Productivity
Structure of the high accuracy linear-rail and head can produce UV coating film at high speed and also realize reduction of production time.
Possible to produce by one unit
Super High Speed Coating
Curing by UV radiation
Flexibility of the system
Flexible layout due to compact design
Possible to realize In-line by connecting Molding machine, Jet Design System and UV radiation device
UV Coating Film with Low cost
Because there is almost no over-spraying, quite fewer consumption volume is used for production of UV Hard Coating Film compared to the conventional UV spraying production.
No need of large-size exhaust booth, and also no need of masking
Realization of In-line and Compact Coating System
Optimization with the original hard-coating agent of Dot-lon series
 UV Hard-coating agent, "Dot-lon", which is optimized for UV Jet Line, can make wide range coating film according to the design. In accordance with use or purpose, it works flexibly.
<![if !IE]>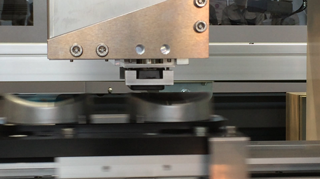 <![endif]>
Specifications
Specifications of UV Jet Line
| | | |
| --- | --- | --- |
| Method | Drop On-Demand | (Continuous Immediate・Optional Coating) |
| Coating size | W:70.5mm、D:297mm | Less than H400mm |
| Suitable work | Flat Shape | Material:PC、ABS |
| Color | Transparent | (UV Hardening Clear Ink) |
| Passing method | Single Passing | (Appropriate Passing Number) |
| Coating direction | One way(Outward) | To be discussed about Two-way |
| Coating distance | 1mm | (Recommended) |
| Coating agent | Special Coating Material | TAKUBO Approved Ink)2L-bottle loading、Hardness of H after hardening(depending on the hardness of the work) |
| UV device | (Option) | High Pressure Mercury UV Lamp |
| Hardening method | Radiation of High Pressure Mercury UV Lamp | UV Hardening after coating(Setting time is required in some before UV hardening) UV Hardening Area:Separate type or Unified type is to be discussed. |
Release Date:June 26, 2014