<![if !IE]> <![endif]>
OIL BOOTH for manual TB42-20B
(OIL BOOTH)
Example of manual type of OIL BOOTH for coating
<![if !IE]> <![endif]>
Manual type of OIL BOOTH for coating. It is an eco-friendly, long-life and economical booth.
Low noise and long service life. Environment-friendly coating-only spray booth
<![if !IE]>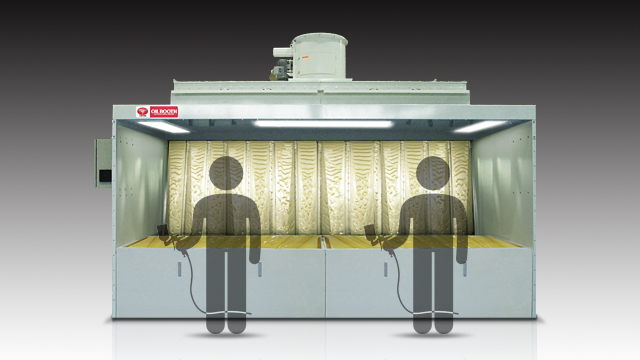 <![endif]>
 Manual type of OIL BOOTH corresponding to two workers. Long service life with low noise, use the oil in the cleaning solution, and its friendly booth to the environment.
Features
<![if !IE]>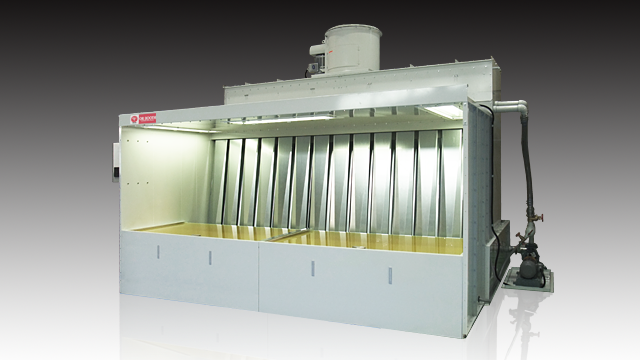 <![endif]>

 It's an OIL BOOTH for manual with space for two people to work. And it is a quiet booth where you can talk in front of the booth because of its low noise design.
【Oil booth original structure】
<![if !IE]>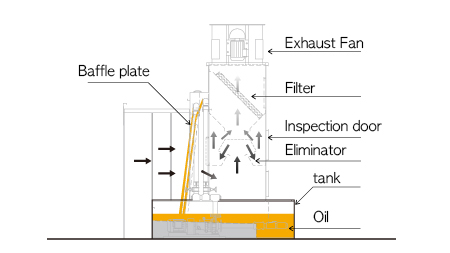 <![endif]>

● The oil booth is designed to suck overspray over the entire surface. It does not collect intensively in one place. The baffle plates on which oil flows collect and remove overspray mist. Furthermore, the collision is eliminated by the eliminator, and finally it is filtered out.
【Environmental performance high-level OIL BOOTH】
<![if !IE]>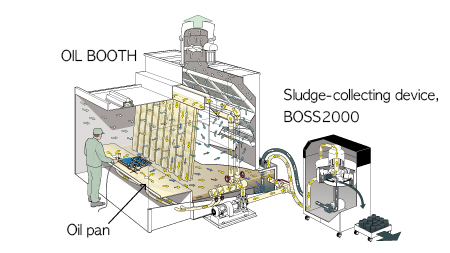 <![endif]>

● By attaching the oil pan, the floor surface will not be contaminated by overspray or dripping of paint.
● By connecting the optional sludge collecting-device BOSS 2000, sludge recovery can be performed semi-automatically to reduce the sludge volume and take it out. Significantly improve industrial waste disposal costs.
【Worker's environment improvement】
<![if !IE]>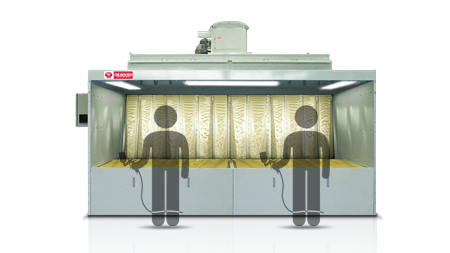 <![endif]>

● The full suction type OIL BOOTH has a low noise design of 68db and an excellent working environment. Workers can talk in front of the booth, reduce the burden of work.
● Can be installed in a clean room.
【Design according to the type of work】
<![if !IE]>
<![endif]>

● The oil booth can be used to coat any work. Furthermore, it can be used for any kind of paint.
● In case of coating large work components such as parabola antenna and car body, it can be connected to the pit. And it is possible to customize the booth with a downward airflow. Work environment improvement and high-quality production are realized without losing the performance of the OIL BOOTH.
※Option
Air supply device
Sludge-collecting device, BOSS2000
OIL BOOTH for manual TB42-20B drawing
<![if !IE]>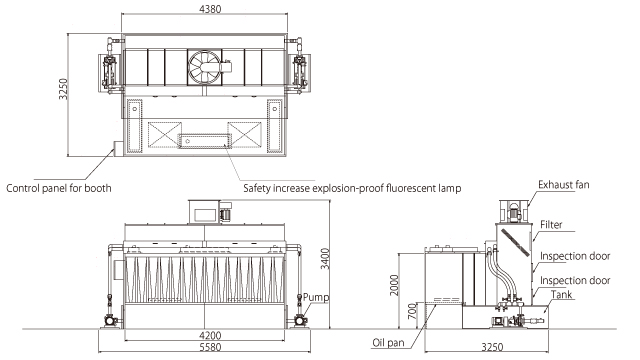 <![endif]>
OIL BOOTH for manual TB42-20B specification
| | | |
| --- | --- | --- |
| Exhaust Fan | VP08B 5F Axial type | 330Nm3/min 26mmH2O |
| Hood Open Dimensions | W 4,200mm x H 2,000mm | |
| Hood Open Area | 8.400 m2 | |
| Mist-catch Filter | ANDREAE filter | 1,000mm x 1,000mm (28pleats)4 |
| Mist-catch Filter Area | 4.0 m2 | |
| Specified Oil | TAB0#100・TAB0#300 | |
| Oil Volume | 1,860 L | |
| Exhaust Fan Motor | Safety explosion-proof type | 3∅AC200V 60Hz 3.7kW 1unit |
| Pump Motor | Safety explosion-proof type | 3∅AC200V 60Hz 2.2kW |
| Hood Lighting | Safety explosion-proof type | 1∅AC220V 60Hz 40W x 2lights 3units |
| Air Charging System | Option | |
| Hood Model | BB | |
| Standard Controlled Wind Speed for Hood | 0.5to0.6m/sec | |
| Pressure Loss of Booth | 1.32 hpa | |
| Pressure Loss of Exhaust Duct | 2.81 hpa | |
Copyright 2019 TAKUBO ENGINEERING co., ltd. All Rights Reserved.
制作著作:タクボエンジニアリング株式会社 写真、画像、文字など、無断でコピーや複製使用を禁止します。