<![if !IE]> <![endif]>
Standard Product, TB-3623B
(OIL BOOTH)
<![if !IE]> <![endif]>
It is a Booth to collect over spray mist exclusively for Coating. TB-36-23B is a standard Oil Booth with the size of 3600mm internal width.
OIL BOOTH has a super-long service life, low-noise design, and is very gentle to the environment.
<![if !IE]>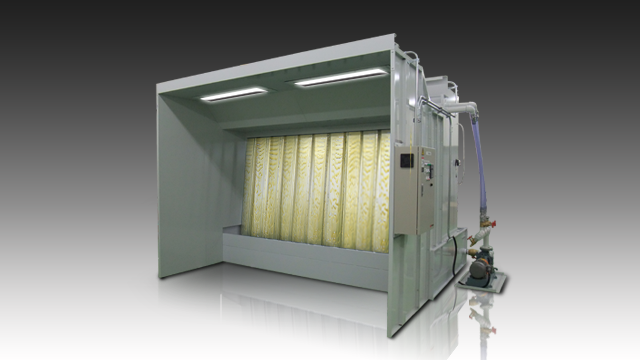 <![endif]>
 OIL BOOTH for Coating is flexibly available for various coating articles, article-sizes and workability. It is suitable to over-spray collection for coating robot and also good for manual-spraying.
Main Specifications and Features of OIL BOOTH Standard type
OIL BOOTH TB-36-23B
Size and Specifications
<![if !IE]>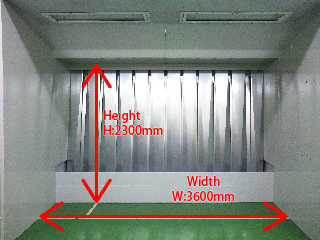 <![endif]>
OIL BOOTH TB-36-23B Height: 2300mm Width: 3600mm Hood Length: 1300mm Height: 2700mm Hood with security-increase explosion-proof type fluorescent lamp is an option.
Hood option to be able to fix lights
<![if !IE]>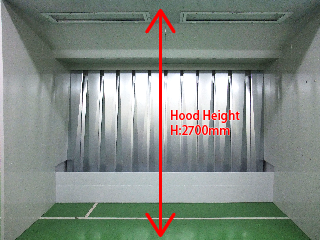 <![endif]>
Workability of the optional hood is improved by installing security-increase explosion-proof type fluorescent lamp. It has flexible size options. Hood is an important part to collect over-spray.
<![if !IE]>
<![endif]> <![if !IE]>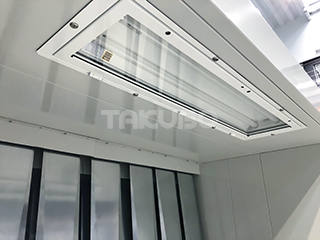 <![endif]>
Rear side of OIL BOOTH TB-36-23B
<![if !IE]>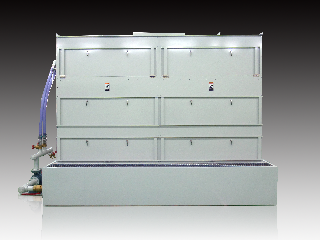 <![endif]>
Inspection door designed on the rear side is for maintenance work such as filter replacement and cleaning. The conventional one-piece inspection door has been improved to a two-piece type to reduce weight. This makes it easier to remove during inspection, and pinpoint maintenance is possible. [Exhaust fan is installed on the upper side of the tank as a standard spec.]
<![if !IE]>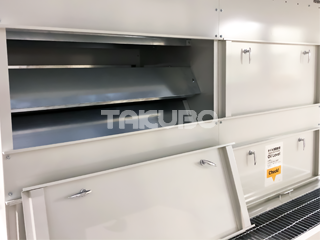 <![endif]>
Manometer
<![if !IE]>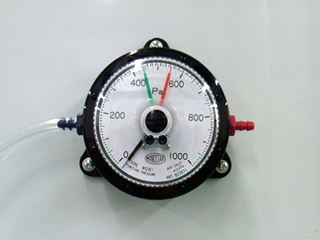 <![endif]>
Since monitoring wind speed is very important for collection efficiency of over-spray, a manometer is equipped to measure the pressure in the booth.
Operation panel and Pump
<![if !IE]>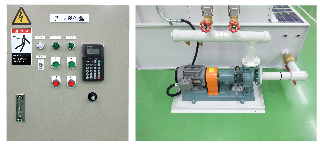 <![endif]>
Inverter is built in the OIL BOOTH to control the wind speed in the booth. It is possible to set in accordance with the operation. The exclusive pump is to send the cleaning TABO oil collected in the tank to the upper gutter.
TABO oil exclusively for OIL BOOTH
<![if !IE]>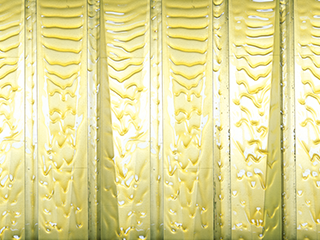 <![endif]>
In the OIL BOOTH, an exclusive original TABO OIL is literally used as a cleaning liquid. This is high-purity refined oil without any toxic substances such as heavy metals or PCB etc. The flash point is very high with 200 to 250℃, and also it is adapted to the Fire Services Ac. Flash point TABO OIL #100:200℃ TABO OIL #300:250℃
Functions
Over-spray and Sludge
Collection of over-spray
Over-spray mist is.. 1. Collected in the oil flowing on the baffle plates at the front. 2. Collected by the eliminator at the slit-top with tiers. 3. Finally collected by the pleated filters. The paint collected in the oil is condensed as paint sludge in the rear tank. Connecting the exclusive sludge-collecting device, BOSS2000 (option), make this paint-sludge collection work semi-automatic, and also reduces operation burden of cleaning maintenance.
Paint-sludge disposal
The paint collected in TABO OIL of OIL BOOTH is able to be semi-automatically collected by the sludge-collecting device, BOSS2000 (option), with centrifugal method. Disposal cost of industrial wastes because the volume of industrial waste is reduced very much, and a burden for cleaning maintenance work of the booth tank is also restrained.
Example of use
To Automatic Coating System
<![if !IE]>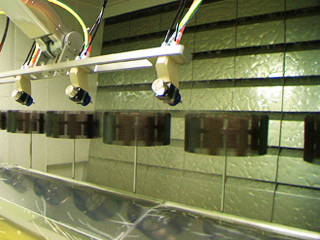 <![endif]>
OIL BOOTH is connected with the Coating Robot, Super Spindle 300C. This is an example of OIL BOOTH. It is equipped for a coating room in a clean room. It means that it is equipped for an automatic system by a coating robot.
Standard Drawing for OIL BOOTH, Standard Product, TB-36-23B
<![if !IE]>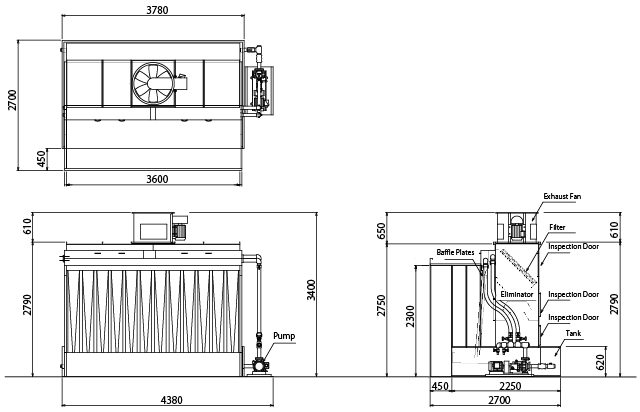 <![endif]>
Main specifications
Main specifications for OIL BOOTH TB-36-23B
| | | |
| --- | --- | --- |
| Model | TB-36-23B | |
| Exhaust Fan | VPO8B-5F Axial-type | performance…330Nm3/min-26mmH2O |
| Hood Open Dimensions | W 3,600mm × H 2,300mm | |
| Hood Open Area | 8.280 ㎡ | |
| Mist-catch Filter Area | 3.6 m2 | |
| Specified Oil | TABO #100 ・ TABO #300 | |
| Oil Volume | 1,600L | |
| Exhaust Fan Motor | Safety Explosion-proof type 3φ AC200V 50/60Hz 3.7kW 1unit | |
| Pump Motor | Safety Explosion-proof type 3φ AC200V 50/60Hz 3.7kW 1unit | |
| Hood Lighting | Option | |
| Air Charging System | Option | |
| Hood Model | BB | |
| Standard Controlled Wind Speed for Hood | 0.5~0.6m/sec | |
Paint Sludge Collection System