<![if !IE]> <![endif]>
OIL BOOTH®
Economical Mist Adsorbing Booth Using Oil
<![if !IE]> <![endif]>
OIL BOOTH has a low-noise design and is designed for a long service life.
<![if !IE]>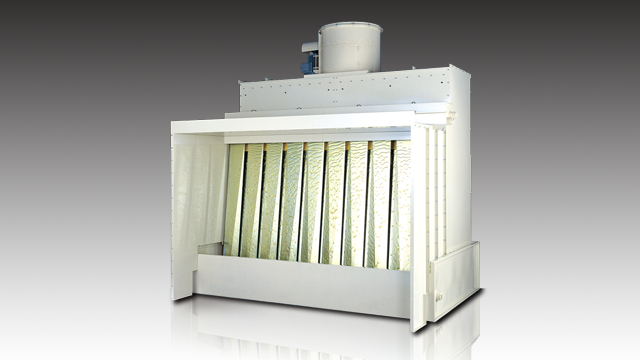 <![endif]>
OIL BOOTH makes possible a work environment that cannot be achieved using conventional water cleaning booths. It also reduces pollution and contributes to improved quality. OIL BOOTH solves a variety of problems affecting the coating workplace.
Dust elimination effectiveness is 95%. Quiet 63 dB operation means you can hold conversations or discussions even right in front of the booth.
A constant inward flow of air at the opening stops stray air currents and prevents mist overspray from getting on work surfaces. This substantially reduces coating defects and improves productivity.
Mist overspray is collected by oil, so there is no danger of mist escaping from the booth. This provides a cleaner work environment.
<![if !IE]>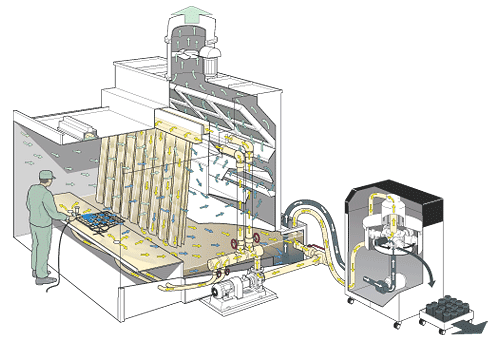 <![endif]>
Features
<![if !IE]>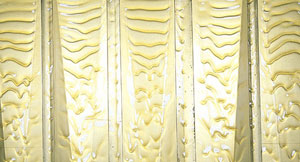 <![endif]>
Service Life of 30 Years or More
Quiet (63 dB) Operation
Easy to Set Up or Move
Support for Semi-Permanent Oil Use
TAKUBO OIL, a specially formulated high-purity mineral oil, can be used in OIL BOOTH on a semi-permanent basis.
Unlike water cleaning booths, which must be replaced every six years or so due to rust, OIL BOOTH is designed to provide 30 or more years of reliable service.
Naturally, no water drainage and treatment equipment is required. Overall running costs, including the initial investment cost and maintenance costs, are very economical.
With OIL BOOTH…
More Pleasant Workplace
The working environment is always clean.
The oil is flame resistant for safety.
Substantially reduced solvent concentration.
OIL BOOTH's excellent mechanism and functions provide a dependable solution to health dangers associated with coating operations, including noise, odor, and overspray mist.
Improved Quality
Complete Capture of Solvents by Oil
Reduction in Defective Results
Improved Coating Adhesion
Compatible with all Coating Types
OIL BOOTH prevents coating defects due to secondary adhesion of mist overspray. Coating efficiency can be improved by regulating the booth's airflow rate. When used in combination with coating robots and a clean room, OIL BOOTH lets you achieve larger production volumes and superior quality.
Environmentally Friendly
Low noise (63 dB).
Suppresses oil odors.
Contributes to improvement of the local environment.
Oil can be used on a semi-permanent basis.
The oil used by OIL BOOTH does not decay over time, and the reduced outflow density ensures compliance with laws regulating unpleasant odors (with optional diluter installed). There is no need for wastewater treatment equipment and no special installation permits are required.
Reduced Cost
Service Life of 30 Years or More
Compact Installation Space and Lower Cost
Conserves Energy
Sedimentation of Semiliquid Sludge
Support for Automated Sludge Processing
<![if !IE]>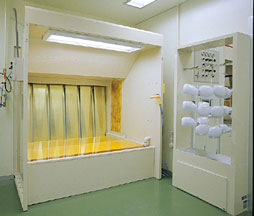 <![endif]>
Sludge processing costs can be reduced by solidification (into waste plastic).
(Connection with BOSS2000 sludge processing unit) Since the equipment does not rust, lower running costs are achieved. Total energy consumption is also reduced substantially.
In addition, fewer coating defects and improved quality make it possible to produce high-grade results at reduced cost.
Options
Sludge Collecting System for Oil Booth
Collects coating material sludge and solidifies it into small pellets.
OIL BOOTHis a registered trademark of TAKUBO ENGINEERING Co., Ltd.