<![if !IE]> <![endif]>
FILTER BOOTH Special order
(FILTER BOOTH for Robot)
Special order for coating booth
<![if !IE]> <![endif]>
It is a coating booth for work components using a small amount of paint. For robot connection. This booth does not use any cleaning solution such as water or oil.
This booth is suitable for small-lot coating production and work components that uses a small amount of paint. Furthermore, it does not choose paint.
<![if !IE]>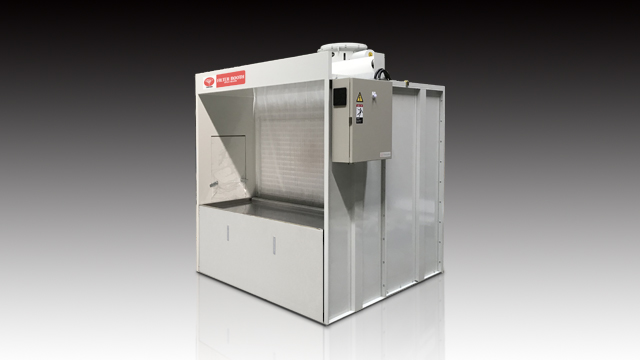 <![endif]>
 The paint filter booth was designed to meet the needs of low-cost, high-performance booths in applying and producing extremely small amounts of material. The front of the booth is designed to be able to be installed, such as the coating robot Softboy Pro. A two-filter system catches and removes overspray. A compact and economical coating booth that eliminates excessive specifications.
Compact and economical FILTER BOOTH that does not choose paint
Overspray is removed with two filter systems
【First filter】
<![if !IE]>

<![endif]>

 The overspray is caught and removed with a roll-type non-woven filter. Check the adhesion of paint and move the non-woven filter manually if necessary.
【Second filter】
<![if !IE]>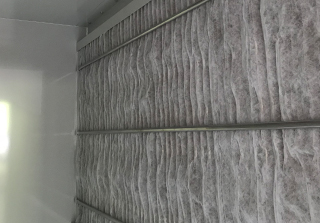 <![endif]>

 HE + filter is used. The overspray is finally removed with HE + filter attached with non-woven fabric in accordion-shaped pleats.
Compact design
Compact design
<![if !IE]>

<![endif]>

 The front part is designed to be able to install the painting robot SOFTBOY PRO. In addition, the upper fan is installed with an axial flow fan that uses an adjustable inverter controller safety explosion-proof motor.
【Inspection port and wind pressure manometer】
<![if !IE]>

<![endif]>

 We have designed the inspection ports for the first and second filters respectively. It is used for filter take-up replacement and cleaning maintenance. Install a wind pressure manometer, measure the pressure in the booth, and check the condition of the filter. If the pressure gauge shows a high value, check for clogged filters.
【Example of coating robot SOFTBOY PRO connection】
<![if !IE]>

<![endif]>

 Connect the coating robot SOFTBOY PRO to the FILTER BOOTH. Design and installation of TAR SLIDER single type transport device. The target work components are automobile parts engine casting heavy goods. Apply a small amount of material in a thin film. Eliminating excess specs, and at the correct scale, a compact automatic coating line is completed with the optimal booth and robot combination design.