<![if !IE]> <![endif]>
Other
(Other Questions and Answers)
Other Questions and Answers from Explosion-proof AC Servo Motor
<![if !IE]> <![endif]>
Other Questions and Answers are posted.
<![if !IE]>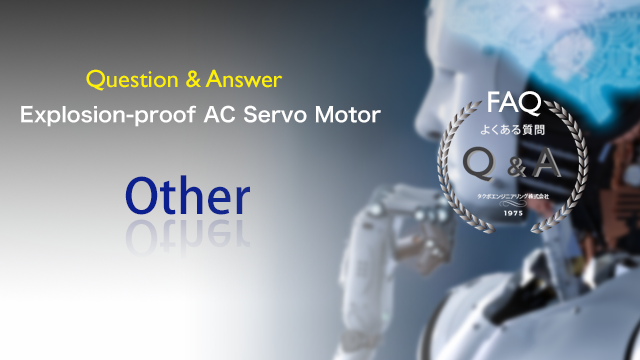 <![endif]>
Q. There are two types of ABS batteries in the Engineering Handbook. Which is appropriate for the encoder type?
A. In the case of the encoder type, we will inform you that the LRV03 is appropriate.It is not possible to use it, but the low voltage makes it easy to get a battery alarm.(Described in 7-P3 of the Engineering Handbook)

Although the LRV03 can be replaced with a commercially available alkaline AA battery, the BTT06 uses AA lithium battery and can not be replaced.
Q. Can I use it in an environment where aluminum, magnesium, and other combustibles are combustible?
A. It depends on what gas is generated in the combustible environment.

Magnesium itself does not explode, but when water is applied at high temperature, hydrogen is generated and exploded by that hydrogen.Similarly, aluminum powder can generate hydrogen and cause explosion if it comes in contact with water, acid or alkali.

As shown in the explosion performance table, it does not support IIC hydrogen. Also, it is not a dust proof construction.(In the case of aluminum powder, there are gas explosions and dust explosions.)

Intended for use in areas where explosive gases or vapors may be present.
Q. You can set parameters from PCs. Can you use RS485?
A. As RS-232C connection is used, RS485 can not be used.
Q. The servo amplifier manufactured by TOSHIBA MACHINE Co., Ltd. can be purchased and used directly?
A. Can not be used.

The functions described in the catalog are the same, but they are registered as explosion proof, so purchasing and connecting a commercially available servo amplifier results in an error and can not be used.

As it is a special type for explosion proof certification, enter a dedicated code and use it.
Q. Can you support driving with a DC power supply?
A. It is not possible to cope with DC power supply.

The amplifier has an operation power supply and a main power supply, and each one is independent.

The main power supply can be DC power supply, but the operation power supply is AC input only.
Q. Are there any explosion protection restrictions on the ground wire?
A. The explosion-proof motor is intended for use in an explosion-proof environment, but the amplifier is intended for installation outside the explosion-proof environment.

Therefore, it will be the same as the normal use, so there is no problem if it complies with the general installation requirements and the description of the instruction manual.
Q. Are there any reduction gears directly connected to the explosion-proof motor?
A. As an inexpensive type, there is the handling of 1/5 reducer made by Sakanishi Seiki Co., Ltd.

Backlash is less than 30 minutes.
Q. The speed setting parameter of the BS amplifier is specified as
A. 一With a common servo motor,

・Rated rotational speed: Maximum rotational speed that can be operated continuously at rated torque
・Maximum rotational speed: Maximum speed that can be controlled by encoder processing, or instantaneous maximum rotational speed that can be mechanically structured.

The standard for the speed setting parameter of the BS amplifier is "maximum rotational speed (100% = 5000rpm)".
Q. How long does it take to deliver?
A. The standard delivery time when the stock is out is

・ Motor: 3.5 to 4.0 months
・ Amplifier: 1.5 to 2.0 months
・ Extension cable: 1.5 to 2.0 months

And it depends on the specifications, so please inquire.
Q. What is the service structure in China, and is it possible to respond immediately when a problem occurs?
A. We accept repair or replacement of the motor and amplifier alone, but we do not provide on-site support.

Therefore, if a problem should occur, we would like you to use a substitute machine.
However, it is recommended that you prepare spare parts as it will be shipped after you receive a notification of the defect and will cause a loss in delivery time.
(Free repair or replacement within the warranty period)
Q. s there a 380V power supply dedicated to China, or does it use a converter?
A. It does not correspond to the power supply 380V for exclusive use in China. Please use a converter for your response.
Q. Which manufacturer can I use the sequencer?
A. The Signaling Circuit (Input / Output) is described in Chapter 3 of the Engineering Handbook.

There are no problems with using any manufacturer as long as the specifications are confirmed and usable.
Commonly used are MITSUBISHI ELECTORIC, KEYENCE, OMRON, etc.
Q. Is special equipment necessary between the sequencer and the amplifier?
A. When exchanging signals with I / O, wiring to CN2 and CN10 is required, but no special equipment is required.
Q. Is it possible not to use the junction box? 
A. A junction box is not necessary if the motor and extension cable connectors are used in a non-hazardous area, but if it is in a hazardous area, it is necessary.
Q. Can you connect by LAN ⇔ LAN?
A. Not supported.
Publication date: June 10, 2019