<![if !IE]> <![endif]>
Authentication
(Questions and Answers Regarding Certification)
Explosion-proof AC Servo Motor Q & A
<![if !IE]> <![endif]>
Authentication-related questions and answers are listed.
<![if !IE]>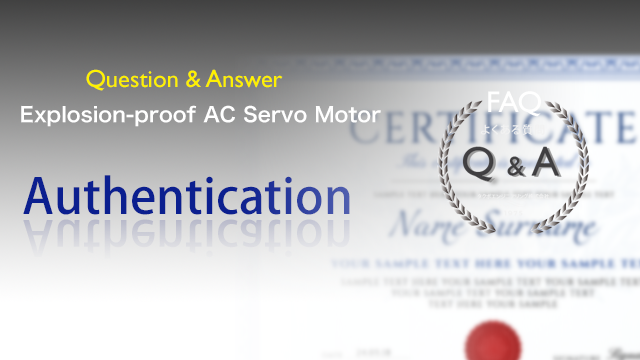 <![endif]>
Q. Do you fall under the export license application of the Export Trade Control Ordinance?
A. It corresponds to the export license application of the Export Trade Control Ordinance.

As this product falls under item 16 of Schedule 1 of the Export Trade Control Ordinance, export may require an export license application to the Ministry of Economy, Trade and Industry.
You may be asked for an explanation at the time of customs clearance, so please request us for the itemized comparison chart (to determine if it is applicable).
Also, if this product is installed in another device, be sure to judge whether the device is applicable or not.
Q. Is the junction box certified with the motor?
A. The certification with the motor is not taken.

The junction box is acquired by the manufacturer and is only available in Japan.
Q. For explosion-proof standards, for China, "ExdIIBT4Gbx" is used, but what does bx at the end mean?
A. About explosion proof display "Gb" is the protection level of the device.
(Where can I use it → Zone 1, Zone 2)

※ Gb: Equipment with "high" explosion-proof level corresponding to explosive atmosphere, does not become an ignition source during normal operation or even when an expected failure occurs.

As for "X", it is a condition of use. (With cable gland installation condition)
→ It is a condition to fix the cable near the cable gland so that the cable is not pulled and the load is not applied to the cable gland.
※ This condition is attached by giving priority to the world's smallest and using a robot cable.
Q. Are extension cables and cable grounds included in explosion-proof certification?
A. The cables and cable glands are also included in the explosion proof certification.
Publication date: June 10, 2019