<![if !IE]> <![endif]>
Cable
(Questions and Answers Regarding Cables)
Explosion-proof AC Servo Motor Q & A
<![if !IE]> <![endif]>
Cable-related questions and answers are listed.
<![if !IE]>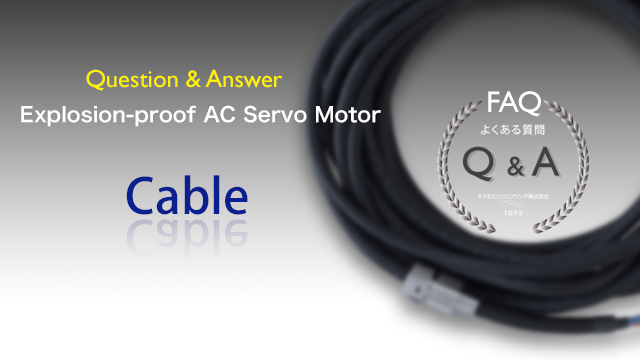 <![endif]>
Q. Can explosion-proof motors be used for moving parts?
A. Since the robot cable is used, it can be used in the movable part.
Q. Is it unnecessary to protect the cable if it is certified for explosion-proof ?
A. Cable protection (electrical wiring) must be considered separately from explosion proof testing.

Even if it is certified for explosion protection, it is necessary to protect the cable.
When incorporated into a robot, we guaranteed as a robot manufacturer by fixing it so that there is no rubbing at the movable part and by performing an endurance test.
If the product is not incorporated into a robot and is used in a dangerous area (for example, put the cable by routing), it is necessary to protect the cable from damage.
(To prevent a sharp object contacts and the cable is damaged and becoming an ignition source) In this case, the equipment manufacturer will guarantee it.

Q. Can special cables be used for robots?
A. Robot cables are used for the dedicated cables, so they are compatible with cable bears.。

The dedicated cable uses a robot cable, so it supports cable bears.
When using a cable bears, use a curved cable bears that is at least 6 times the finished outer diameter (sheath outer diameter).
・Power cable RMFEV-SB (CL3) 0.75 SQ-6C AWG 18 (0.75 mm2) 0.85 mm = 51 mm
・Cable for encoder RMFEV-SB (CL3) 0.3 SQ-7 P AWG 22 (0.3 mm 2) 10.8 mm = 64.8 mm

Q. Can you make the cable longer, such as 20 m or longer ?
A. The cable length is up to 15m using an extension cable.

At 15 m or more, a voltage drop occurs in the encoder cable between the amplifier and the motor,
1) Normal control becomes impossible.
2) Sound the alarm
and so on.
Q. What is the minimum bend radius at the fixed portion where the cable does not move?
A. Whether movable or not, it is more than six times the cable finished outer diameter.
Q. How long is the cable of the explosion-proof motor?
A. In order to secure the operation guarantee voltage specified in the specifications of the encoder, the maximum length is 15m.
Publication date: June 10, 2019