<![if !IE]> <![endif]>
Explosion-Proof Type Syringe Pump
<![if !IE]> <![endif]>
Syringe Pump only for Coating Material Supply with Super-precise Explosion-Proof specification to control by 1 cc unit Necessary item for Digital Coating.
<![if !IE]>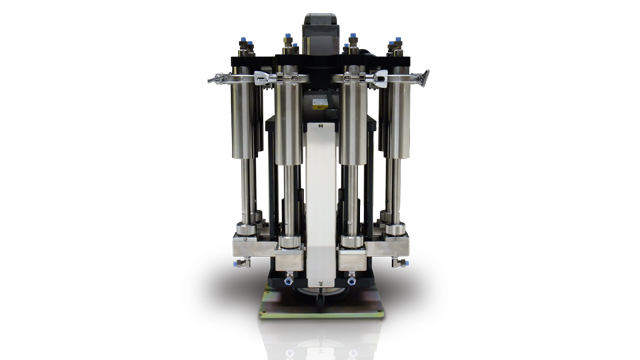 <![endif]>
Syringe Pump only for Coating Material Supply with Pressure-Resistance and Explosion-Proof specification is to make Stability, Reproducibility, and High-precision of discharge volume by coating robot spray. Safety, Workability and Low-Cost are improved by High Cleaning and Maintenance Functions and also by Explosion-Proof specification.
Explosion-Proof Type Syringe Pump
<![if !IE]>

<![endif]>
Digital Coating is improved by Precise Coating Material Supply Pump.
Concept of Development
Control of Coating Material by 1 cc unit.
High Precise Reproducibility within ±1cc/min
Easy Workability such as No need of Tool in dismantling cylinder part.
Safety Measure Configuration for Fire etc.
Realize High Reproducibility.
<![if !IE]>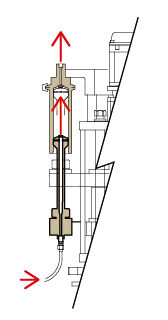 <![endif]>
Coating Material can be controlled with high-accuracy by 1 cc unit. Coating Workability and Coating Cost are improved by keeping High-grade Reproducibility of coating. Supply for Coating System with Multiple Guns can be precisely managed without any unevenness of discharge volume for each gun.  Reasons why Syringe Pump can make Reproducibility  Mechanical High-accuracy is necessary as a function to supply coating material  Specific Items for Reproducibility to need High-accuracy  Discharge volume of coating material by coating spray  Conditions of Connection with Existing System   Input and Output style for connection with exiting system:DI/O、Communication function:CC-LINK etc  Input of discharge volume and management are possible.
Pressure-resistant and Explosion-proof specifications
<![if !IE]>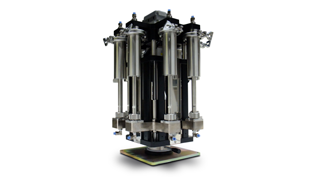 <![endif]>
Pressure-resistant and Explosion-proof design with measure for Fire Services Act etc.(Japan)
Correspondent to Multiple Guns
<![if !IE]>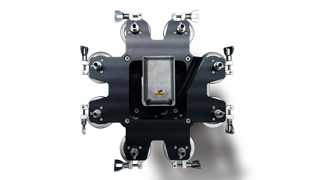 <![endif]>
One cylinder corresponds to one spray gun. One syringe pump unit can supply coating material to 8 guns.  The number for one syringe pump to manage is from 1 to 8.
Easy Maintenance
<![if !IE]>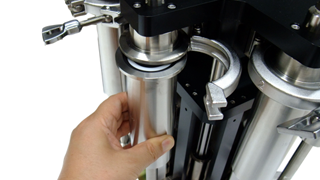 <![endif]>
It is a simple design just to remove a cylinder in cleaning and maintenance.  Labor and time for cleaning, and consumption cost for cleaning solvent are substantially improved. Coating material room can be very small because of simple configuration.
It can correspondent to coating systems other than SOFTBOY PRO.
It is possible to install at an existing coating system other than SOFTBOY PRO coating system. (Controller might be necessary depending on the situation. Please contact us.)
Pearl or Metallic paint can be manageable.
<![if !IE]>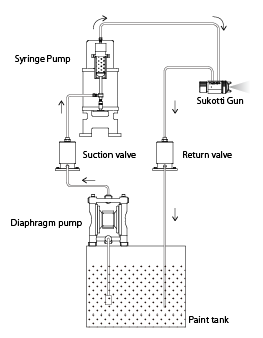 <![endif]>
Even Pearl or Metallic paint with some precipitates can be managed to avoid any precipitation in the hose by circulation system.  Stable and high grade coating quality is always reproduced eliminating any difference among the products.
Dimension drawing of Syringe Pump
Specification for 8 guns
The data is available for download.

Dimension drawing(DimensionDrawingOfSyringePumpC.pdf:201KB)
Main specifications of Syringe Pump
Specification for 8 guns
| | | |
| --- | --- | --- |
| Model | SP13EX-100S-8 | |
| Capacity of syringe | 8 cylinders, 100cc per 1 cylinderSpecial resin + SUS304 | |
| Weight | About 55.0kg | |