<![if !IE]> <![endif]>
Custom-made DRY TEC
(Drying Oven, Drying Device exclusively for Coating)
Special Order Product, Large-sized Drying Device, GO-503050
<![if !IE]> <![endif]>
Custom-made DRY TEC, Best Seller of Drying Oven, Drying Device exclusively for Coating, Large-sized Drying Device exclusively for Coating for example This is an example of Custom-made DRY TEC. DRY TEC is also available for Camel-back Drying Oven (Trolley specifications), Annealing, Far Infrared Ray specifications, Automatic Conveyor specifications and other types.
Drying Oven, Drying Device exclusively for Coating is DRY TEC only.
<![if !IE]>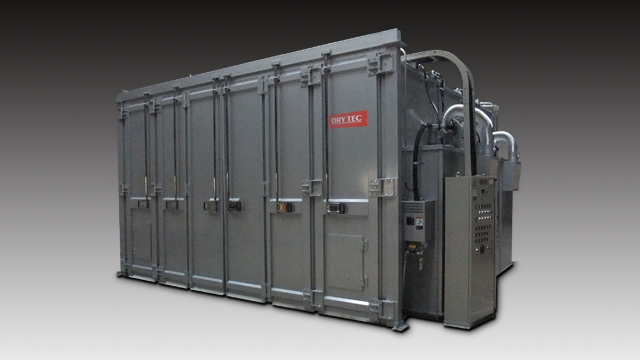 <![endif]>
 In DRY TEC, Drying Device exclusively for Coating, many kinds of Special Order Size are produced besides Standards.
Example of Special Order Product, GO-503050, Large-sized Drying Device
<![if !IE]>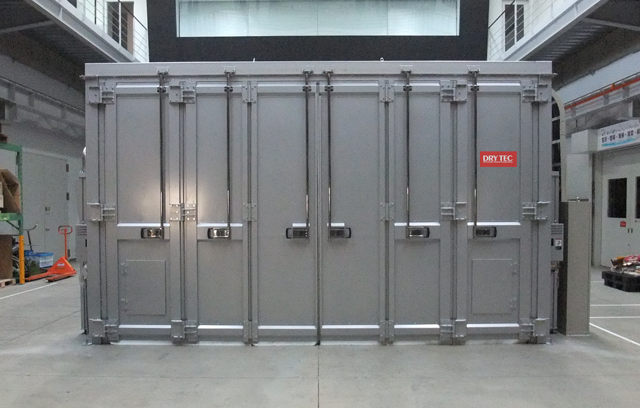 <![endif]>
LPG as fuel with 24,000kcal/m3  The inside dimensions for Special Order Large-sized Drying Device, GO-503050, are 5000mm of width, 3000mm of height and 5000mm of depth. Single Door type is designed with 6 door panels. Six Hot Air Generators with each 38,000kcal/h/unit are installed.
<![if !IE]>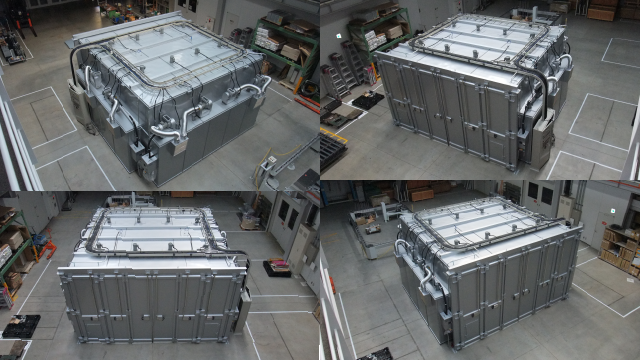 <![endif]>
Single Door type (GO type)  Single Door type (GO type) means one opening for work pieces to enter and take out. 。Front and Rear Door type (GOW type) means, so to speak, Passage type, in which there are two openings at both entrance and exit. This type is used in case that Coating room and Preparation room are separated in the Clean room. You can choose depending on your operation process or installation environment("GO" stands for Single Door, and "GOW" stands for Front/Rear Door).
<![if !IE]>

<![endif]>
Opening and Closing by 6 Door Panels  Each Single side has 3 door panels, so they are opened and closed by 6 door panels. It can be used as two drying devices if it is separated by a Central Partition. Therefore, in accordance with kind of coated articles, only one side can be used for drying. It is really high-efficient drying device thinking of workability.
Inside of Drying Device
<![if !IE]>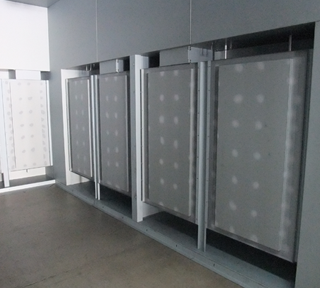 <![endif]>
Hot Air Generator  Multi-point generation method is adopted in DRY TEC, GO-503050. Total 6 Hot Air generators are installed so that the inside temperature of the oven can rise efficiently.
<![if !IE]>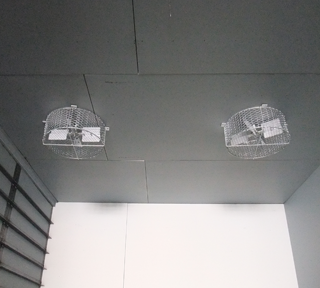 <![endif]>
Internal Circulation Fan  The inside temperature in the oven is averaged by turning of the Internal Circulation Fan.
<![if !IE]>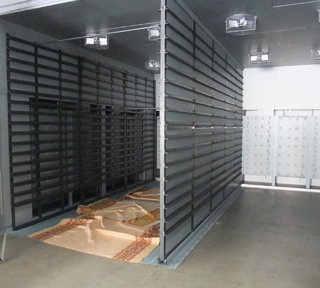 <![endif]>
Central Partition  Designing a removable partition for the large-sized drying device makes it much more efficient to use so that you can put two different kinds of coated articles into left and right like having two drying ovens.
<![if !IE]>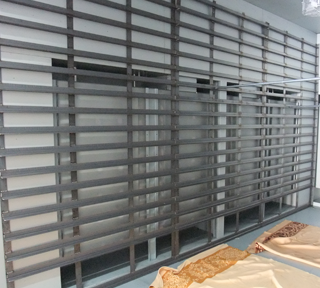 <![endif]>
Shelves  Shelves are set to be available for various kinds of articles from small size to large size, complicated shape, or small-quantity and large-size and so on.  For example, you can use only half of the oven by fixing the central partition so that small quantity articles or complicated shapes or hanged ones can be dried efficiently with low cost.
Drying Device, External Side
<![if !IE]>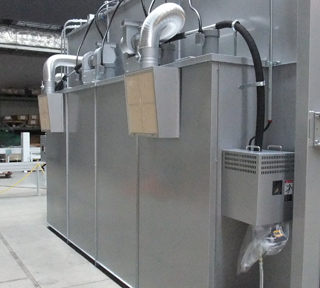 <![endif]>
Burner and Intake Filter  Fresh and Clean Air is taken into the inside of Oven Fresh and Plenty Air is essential for Drying of Coated articles. DRY TEC has a structure to always take fresh air in order to improve paint performance by 100%. Running Cost is efficiently saved with heat-recovery by the heat-exchanger, by which the heat-recovery rate between exhaust air and fresh air is about 85%.
<![if !IE]>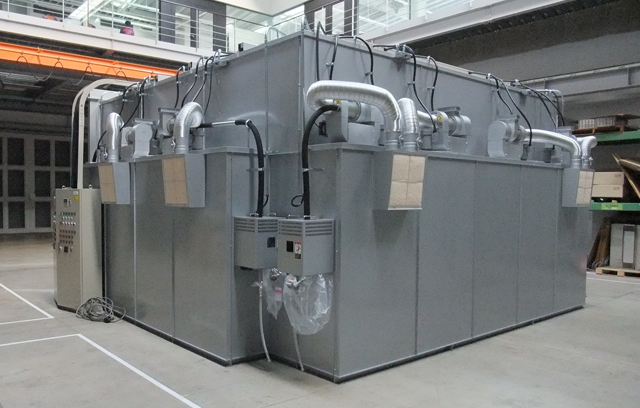 <![endif]>
Heat-Recovery type Hot Air Drying Device, DRY TEC
Indirect Heating Method considering Safety and High-Quality
Structure considering Safety
<![if !IE]>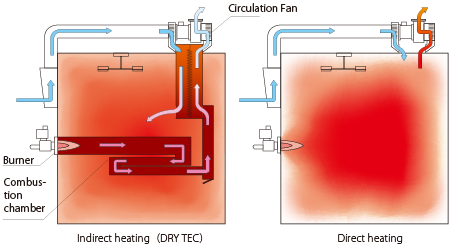 <![endif]>
 Paint is dried (hardened) by heating. Solvent is vaporized from the paint in a process of heating so that the atmosphere could be in a high flammable state.  In DRY TEC, the drying oven and combustion chamber are separate not to catch fire. Indirect heating method to heat the oven indirectly is adopted so that safety and quality are always secured by fresh hot air.
Inside of the Drying Device is heated by Circulated Hot Air.
<![if !IE]>

<![endif]>
 Heat Energy radiated from the combustion chamber heats the air in the drying oven, and also the temperature in the oven is averaged by the circulation fans.
Heat Exchanger with about 85% of heat-recovery rate
What is a heat exchanger?
<![if !IE]>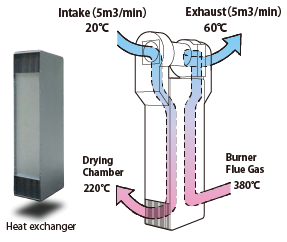 <![endif]>
 Heat Exchanger is called a heart of DRY TEC. Heat Energy generated in the chamber is recovered at about 85% of recovery rate in exhausting to be used efficiently. Waste of energy is substantially reduced.  
Energy saving by about 85% of heat recovery rate  Recovery and reuse of the heat energy, which used to be exhausted, contribute to both energy saving and prevention of global warming. Cost for energy consumption is substantially reduced compared to an electric type or a direct heating type.
Role of Heat Exchanger
Exhausted Heat Energy is reused.
Plenty of Oxygen is supplied into the drying oven.
Waste of energy consumption is reduced.
Heat Exchanger prevents bad influence on the coating film at 100%.
Fresh hot air enhances the paint performance.
It is very safe to dry dangerous coating articles by forced ventilation.
It is available for both low and high temperature, and also good even for water-base paint.
Suitable for Dewatering Drying
Suitable Paints
Baking Paint
Water-base Paint
Powder paint
Solvent drying for UV paint and others
It is also available to manage special paints or to change the heat source to electricity. Please ask us if you have any questions.
Custom-made DRY TEC, GO-503050, Simple Drawing
<![if !IE]>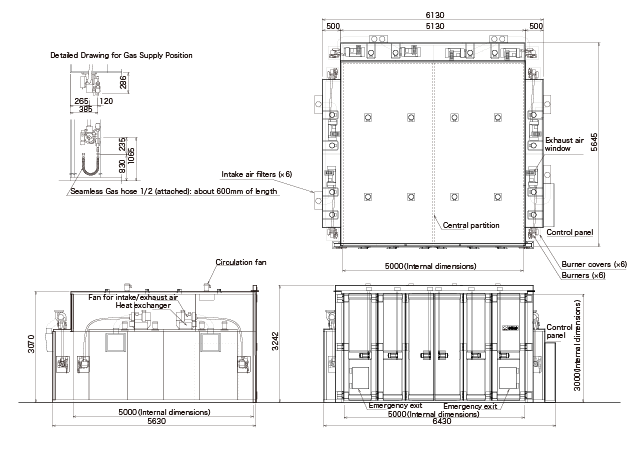 <![endif]>
Custom-made DRY TEC, GO-503050, Specifications
| | | |
| --- | --- | --- |
| Burner | 91-type High/Low Temp, Spark-type Auto Ignition, 6 unites | |
| Heat Exchanger | 4mm   8 units | |
| Circulation Fan | 0.4kW  12 units | |
| Fan in the oven | 0.4kW  8 units | |
| Intake/Exhaust Fan | 0.25kW  8 units | |
| Calorific Value | 38,000 kcal/h×6 | |
| Fuel | LPG 24,000 kcal/㎥ | |
| Power Voltage | 3φ AC200V 50/60Hz 10.0kW | |
| Internal Dimensions | W:5,000mm×H:3,000mm×D:5,000mm | |
| Internal/External Plates | SPC 0.8t(Baking Finish for External Plate Metallic Silver) | |
| Insulation | 50t G.W 24kg/㎥ | |
| Doors | Front and Rear Door type with 6-plate door | |
| Floor | 3.2t Steel Plate (no insulation for the bottom) | |
| Temp range | 80~200℃ | |
| Time of temp rising | 20~30min/150℃ | |
| Temp Control Method | ON-OFF method (Sensor: K-type heat terminal) | |
| Safety Device | Flame Monitor, Over-heat Protection Device, Air-flow Switch, Over-heat Protection Device for Burner, Over-load protection for Motor | |
| Options | Central Partition, Emergency Door, Shelves | |
| | ※Specifications and Dimensions could be changed without any pre-notice. | |