<![if !IE]> <![endif]>
DRYTEC, Large-size drying oven, GO-322726S
(Drying oven only for coating)
Special order, Large-size drying machine with one-side door, GO-322726S
<![if !IE]> <![endif]>
Example of installation of Large-size drying machine, DRYTEC Special order Drying machine with one-side door suitable for big-size work component to coat
DRYTEC with one-side door suitable for big-size work component and batch production
<![if !IE]>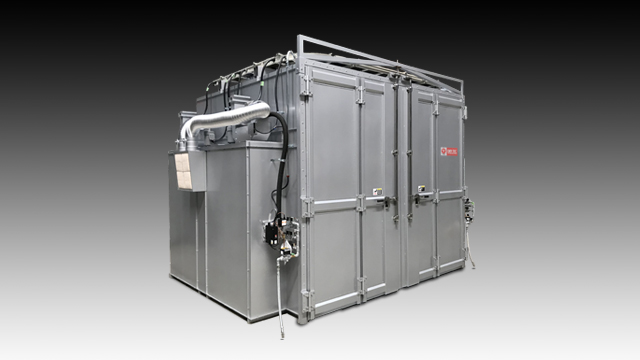 <![endif]>
DRYTEC, Large size drying machine with one-side door suitable for big-size coating work components and batch production
Internal Dimensions  W 3,200 mm × D 2,600 mm × H 2,700 mm
Heat-Recovery type Hot Air-Drying Device, DRY TEC suitable for baking and drying large work components
Example of special product GO-322726S suitable for big-size work components and batch production
<![if !IE]>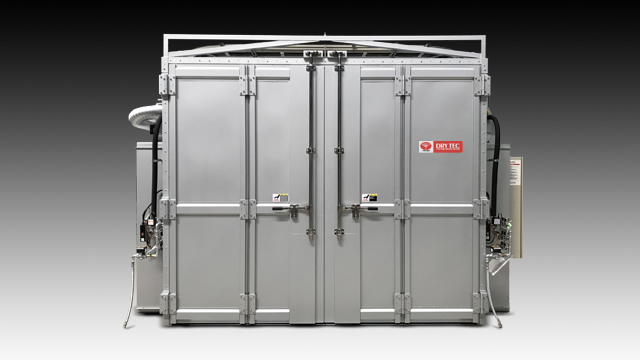 <![endif]>
Large drying machine ideal for baking and drying large work components
The installation work is easy because the inner and outer plates have a panel structure with SPC 0.8t insulation
Fast start-up and the heat exchange system achieves low fuel consumption.
<![if !IE]>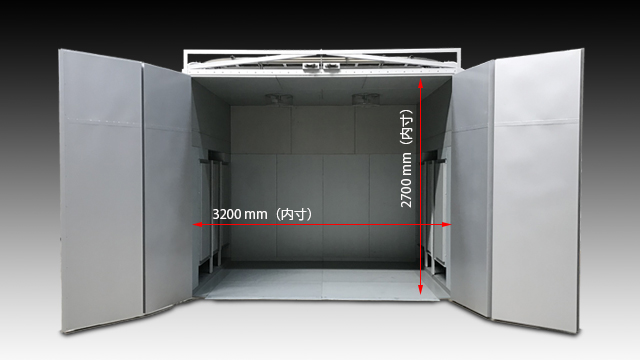 <![endif]>
Easy loading and unloading of hand carrying truck. Quarto open-and-close type two doors.
Since the temperature distribution is good, the inside of the oven with an inner dimension of 2,700 mm can be used effectively.
Air supply and exhaust fan unit
<![if !IE]>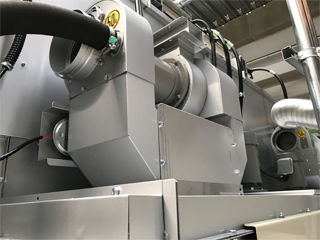 <![endif]>
 Freshly purified air is fed into the furnace and combustion chamber at a rate of 10m3 per minute.

Furnace heating
<![if !IE]>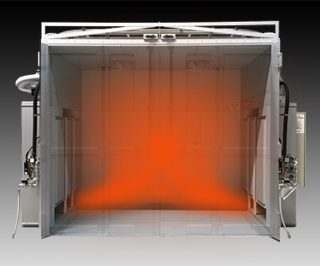 <![endif]>
 Heated in the combustion chamber and blows hot air from the lower opening into the furnace. Heating is repeated in the combustion chamber, and the heat sensor keeps the inside of the furnace at the specified temperature, and also keeps the inside of the furnace efficiently and uniformly.

Combustion chamber
<![if !IE]>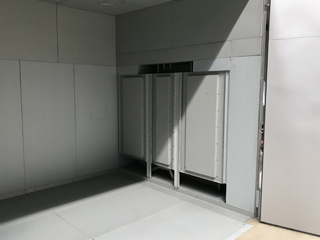 <![endif]>
 Unlike open flame driers, it is difficult for fire species to enter. In addition, it also excludes substances that cause defects such as water vapor and combustion gas generated when the gas is burned.
Furnace circulation fan
<![if !IE]>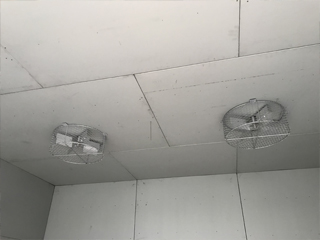 <![endif]>
 Keep the temperature distribution in the furnace constant. It prevents uneven baking and enables high-quality and high-productivity drying.
Air supply filter
<![if !IE]>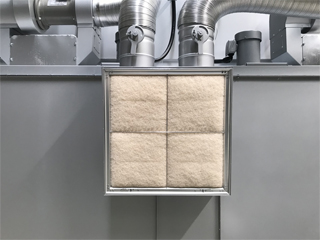 <![endif]>
 The filter is used to clean up the combustion chamber and furnace so as not to put any floating dusts and so on.
Panel structure
<![if !IE]>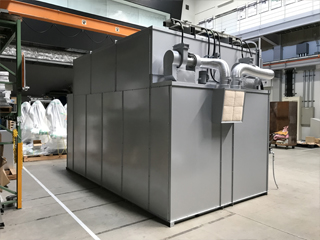 <![endif]>
 DRYTECH has a panel structure that uses a 0.8 mm steel plate with a heat insulator. Excellent workability for installation and delivery, and flexible product size.
 Heat loss is low, compatibility with the heat exchange system units outstanding. It demonstrates the performance of the paint perfectly. Furthermore, high-quality dry finish and low fuel consumption are realized.
Size and drawing
Dimensions / internal dimensions
| | |
| --- | --- |
| Dimensions | 3200 mm × 2600 mm × 2700 mm |
<![if !IE]>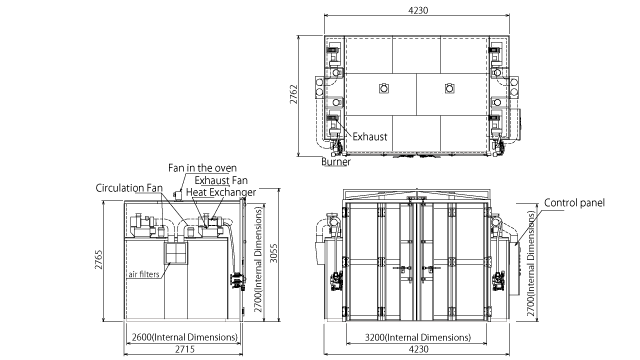 <![endif]>
Specifications
Heat-Recovery type Hot Air-Drying Device, DRY TEC GO-3227265
| | | |
| --- | --- | --- |
| Burner | 6-type High/Low Temp, Spark-type Auto Ignition, | 2 unites |
| Heat Exchanger | 4mm 4units | |
| Circulation Fan | 0.4kW 4units | |
| Intake/Exhaust Fan | 0.25kW 4units | |
| Fan in the oven | 0.25kW 2units | |
| Calorific Value | 45,000 kcal/h x 2 | |
| Fuel | LPG 24.000 kcal/m3 | |
| Power Voltage | 3∅ AC200V 50/60Hz 3.1 kW | |
| Internal Dimensions | W:3,200mm x H:2,700mm x D:2,600mm | |
| Internal/External Plates | SPC 0.8t | Baking Finish for External Plate Metallic Silver |
| Insulation | 50t G.W 24kg/m3 | |
| Doors | Quarto open-and-close type two doors. | |
| Floor | 3.2t Steel Plate | no insulation for the bottom |
| Temp range | 80~200℃ | |
| Time of temp rising | 20~30min/150℃ | |
| Temp Control Method | ON-OFF method | Sensor: K-type heat terminal |
| Safety Device | Flame Monitor, Over-heat Protection Device, Air-flow Switch, Over-heat Protection Device for Burner, | Over-load protection for Motor |