<![if !IE]> <![endif]>
DRY TEC
Heat-Recovery Type Hot Air Drying System
<![if !IE]> <![endif]>
DRY TEC is a heat-recovery type hot air drying system developed by TAKUBO that achieves superior economy, safety, and finishing.
<![if !IE]>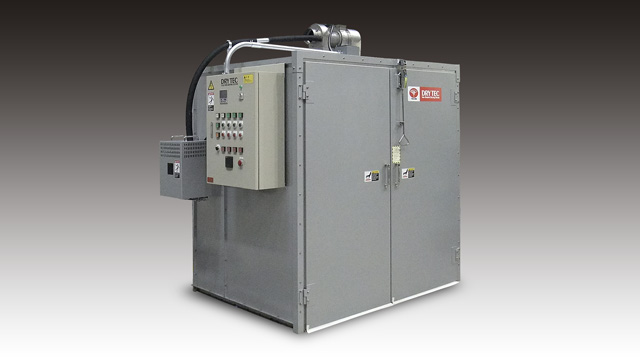 <![endif]>
This drying system reuses waste heat so none is wasted while completely avoiding any adverse effects on the coating layer, which determines the quality of the finish.
Features
The gases produced by combustion are vented out of the drying oven and enter a heat exchanger and, together with fresh air from outside, 85% of the heat energy is recovered.
The drying oven and combustion chamber are completely separate because an indirect heating system is used. This ensures a high level of safety.
The temperature inside the drying oven rises quickly and evenly. This brings out the performance and functions of the coating material to the full. At the same time, costs are reduced because wasteful energy consumption is minimized.
DRY TEC can be installed inside a clean room. Front-door and front-and-rear-door models are available for use as a line drying oven (also called "peaked configuration drying oven").
Adopting Latch handle
Latch handle has been adopted to make it easier to open and close/lock the door. In addition, Temperature Controller has been changed from Analog to Digital. Although the Analog was well received because it was simple and easy to use, we have changed it to the Digital since the manufacturer of Analog quit producing.
Adopting Latch handle has improved workability of the door open and close/lock. <![if !IE]>

<![endif]> <![if !IE]>

<![endif]> Latch handle <![if !IE]>

<![endif]>
Temperature Controller has been changed from Analog to Digital. <![if !IE]>

<![endif]> <![if !IE]>

<![endif]> Digital Temperature Controller <![if !IE]>

<![endif]>
Functions
Advantages of Heat Exchanger
<![if !IE]>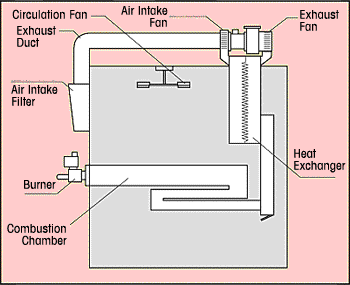 <![endif]>
Complete Prevention of Adverse Effects on Coating Layer
Heated Fresh Air to Bring Out the Full Performance and Functions of the Coating Material
Reuse of Waste Heat for Amazingly Lower Fuel Costs
Forced Exhaust for Safe Elimination of Toxic Substances in Coating Material
Compatible with Water Soluble Coating Materials (Option)
Ideal for Moisture Elimination and Annealing
<![if !IE]>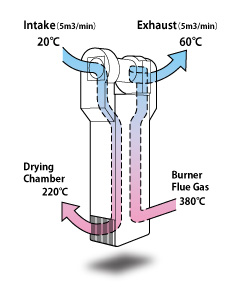 <![endif]>
Fuel cost for one hour of operation approx 8, 30% to 50% cheaper than conventional electrical or direct-fired systems.
Waste heat is reused for amazingly lower fuel costs.
Rapid heating of oven interior for an excellent turnover rate.
Interior and exterior panel thickness of only 0.8 mm does not retain or allow escape of heat.
Indirect heating system allows no exhaust gases inside the oven for superior safety.
Drying oven and combustion chamber are completely separate! Indirect heating system for superior safety.
Oven interior air exchange of 5 m3 per minute eliminates toxic substances in coating material.
Complies with Tokyo Municipal Fire Prevention Ordinance.
Combustion exhaust is completely vented outside of the oven, assuring high-quality coating results with no color inconsistencies.
No gasses from combustion enter the drying oven, so there is no need for gas sensors.
The oven temperature is consistent and stable, delivering excellent finished results every time.
Specifications compatible with all coating types, including the water soluble coatings that are increasingly in demand.
Can be combined with a clean room in an integrated system for high-grade coating performance (front-and-rear-door model).
Simple design allows handling even by inexperienced personnel. Setup, transfer to a different location, and expansion are easy.
Floor panel is 3.2 mm thick, allowing smooth rolling in and out of dollies.
Temperature drop when doors open is minimal, so high operation efficiency is maintained.
A large number of work pieces can be processed at once, providing an excellent turnover rate.
The collapsible design allows DRY TEC to be set up on second floor facilities or moved and expanded as needed.
Can be integrated into the production line. Provides flexible support for all sorts of coating environments.
Can be integrated with trolly conveyors and automated coating lines.
Lightweight and compact design allows effective utilization inside the coating room.
Two models available to provide support for use as a line drying oven.
Front-Door Model
Front-and-Rear-Door Model
<![if !IE]>

<![endif]>
DRY TEC can be used as a line drying oven (such as a "peaked configuration drying oven").
Conventional line drying ovens use a single heat generator and are large in scale. They consume large amounts of fuel and have thick steel walls, so they take a long time to reach the desired drying temperature. In contrast, DRY TEC uses multipoint heat generation and have steel walls only 0.8 mm thick. The oven temperature rises quickly and is maintained at a constant level.
In addition, the heat exchanger minimizes the amount of gas consumed as fuel.