<![if !IE]> <![endif]>
BOSS2000 ver.10
(BOSS 2000 ver.10)
Paint sludge collection system for OIL BOOTH
<![if !IE]> <![endif]>
OIL BOOTH dedicated paint sludge collection device
<![if !IE]>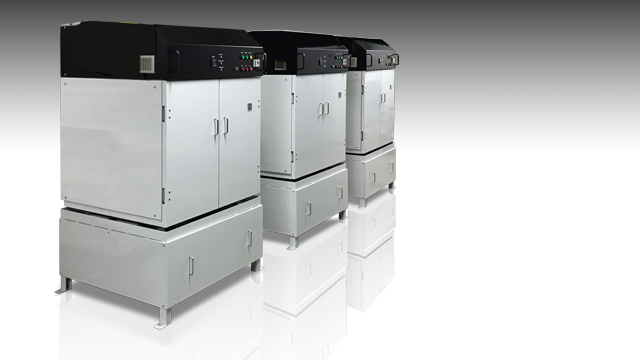 <![endif]>
Utilizing the centrifugal force of 1300G, paint mixed with oil is automatically collected and separated into paint sludge and oil by centrifugation. The paint sludge is solidified and removed, and the clean oil is returned to the booth for reuse.
BOSS2000 functionality and maintainability have been improved.
Improved operability and maintainability
<![if !IE]>

<![endif]>
● Redesigned control panel. The power switch, rotor switch and pump switch are simply arranged to improve operability and visibility.
<![if !IE]>

<![endif]>
● Equipped with a processing timer for sludge collection equipment. In addition to the display and control, balance monitoring lamps and pressure monitoring lamps have been added to enhance the functions of the monitoring system.
The main unit and the pump are separated.
<![if !IE]>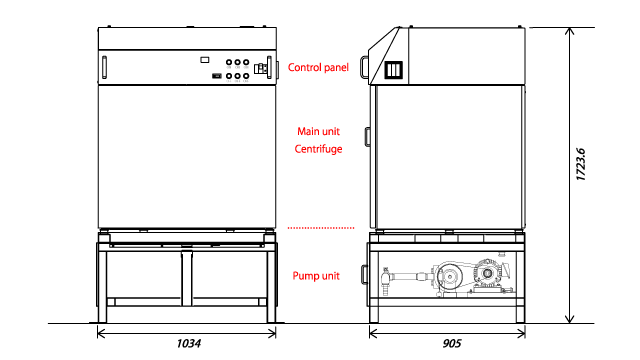 <![endif]>
● Separation of the main unit mainly for centrifugal separation and the pump unit of the supply / discharge drive unit has improved maintainability such as sludge removal and replacement of the inner tube. It also minimizes the maintenance of clean oil splashing during centrifugation.
BOSS2000 Installation example
<![if !IE]>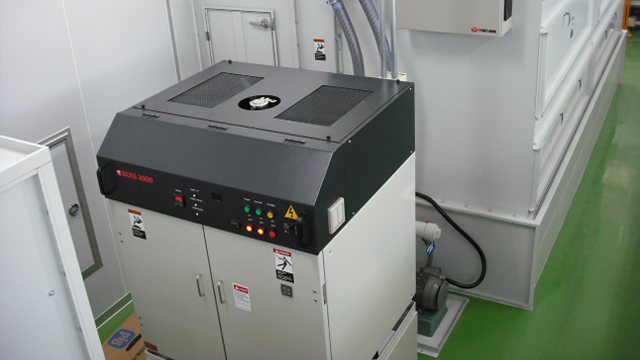 <![endif]>
Installed next to the OIL BOOTH.
Connected to the OIL BOOTH tank with a hose.
The oil mixed with paint sludge is sucked up and separated into paint and oil by centrifugation.
The paint sludge solidifies and the oil returns to the booth.
Minimized industrial waste and significantly reduces industrial waste disposal costs.
Oil can be used semi-permanently if pigment is removed. Oil does not rot unlike water.
Long life without rust because no water is used.
BOSS2000 Drawings
<![if !IE]>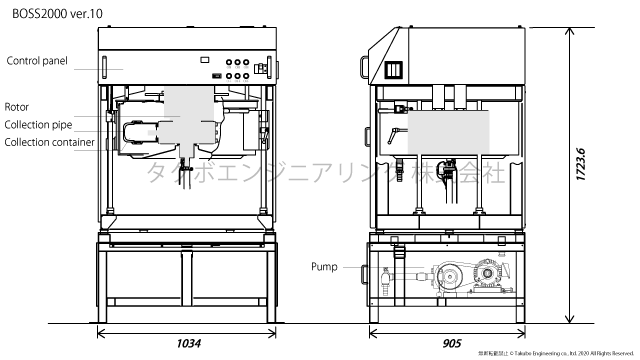 <![endif]>
Specifications
BOSS2000 ver.10 Specifications
| | | |
| --- | --- | --- |
| Centrifugal force | 1300G | |
| Paint collection amount | 1.2L×6 (cup capacity) | |
| Processing power | 10 L/min | |
| Maximum rotation number | 1,800 rpm | |
| Elevating protection chamber | Stroke 350mm | |
| Spindle motor | 3φ 3.7kW 2p 0〜2,000rpm Fully closed type (Inverter control) | |
| Pump | ▼ | |
| Mohno-pump | (Inverter control) 3〜10L/min | |
| Pressure | 3 kg/cm2 | |
| Rotation number | 350 rpm MAX | |
| Motor | 3φ AC200V 0.4kW | |
| Rotor | Made of aluminum alloy | |
| Collection tube | Aluminum alloy 6 pcs×φ100×215mm | |
| Safety device | Unbalance detection device/Oil pressure detection device/Motor overcurrent detection device/Door lock/ Electromagnetic lock system | |
| Accessories | Handle for cap removal /Dedicated oil pan /Tag /Inner tube | |
| Option | Signal tower | |