<![if !IE]> <![endif]>
SWAN-S
(Coating robot)
SWAN-S
<![if !IE]> <![endif]>
SWAN-S is a type of SWAN robot without W-turn of handling device. Setting multiple set of SWAN-S on the line will make a continuous mass-production operation.
Possible to set on the line, the coating robot for mass-production
<![if !IE]>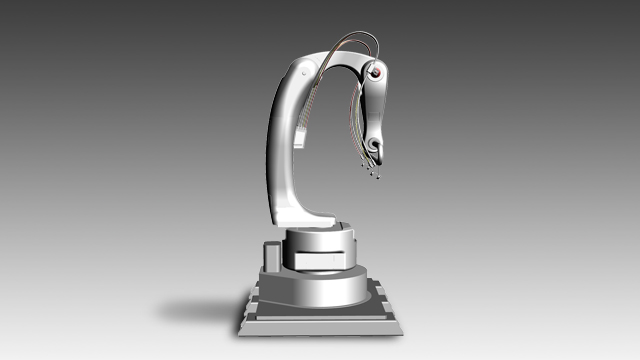 <![endif]>
It is only the coating robot suitable for mass-production in SWAN robot series. Taking off W-turn from the standard SWAN robot, multiple set of the robot on the line sill make a coating operation for the even number of jigs simultaneously by the revolving coating method. One SWAN robot can coat 2 ring-jigs, so in case of four SWAN robots, 8 ring-jigs can be coated at the same time.
Coating robot suitable for mass-production
Multiple-robot setting will increase mass-production efficiency
<![if !IE]>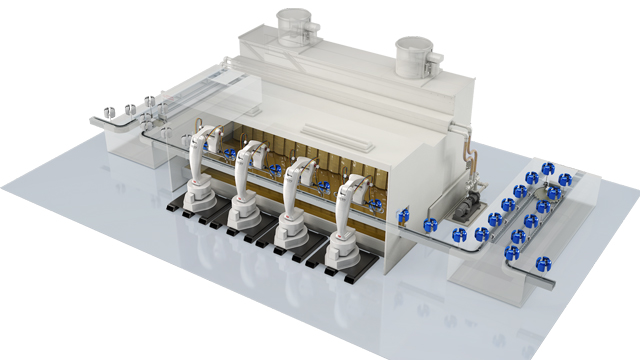 <![endif]>
Setting SWAN-S robot on a continuous line will be able to manage mass-production operation. Total energy cost will be also reduced by combination of the high-grade and low-cost coating of the revolving coating, R-technology, and DRAGON LINE.
Mass-production efficiency will be improved at low cost.
2 ring-jigs per one robot will be simultaneously coated by the revolving coating.
<![if !IE]>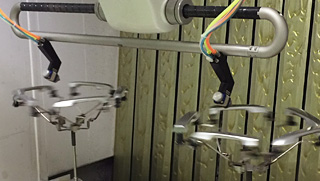 <![endif]>
2 spray guns are installed in a SWAN robot as standard equipment. It means 2 ring-jigs are coated at the same time by the revolving coating. Maximum 4 guns (double gun) can be installed in order to manage a multi-color coating operation. You can change the color quickly so that the time for set-up change and color-change are substantially reduced.
Revolving coating at low cost
It is perfectly following R-technology with the multi-layer and thin-film coating. Revolving work pieces are coated by the multi-layer and thin-film coating using our original robot moving. Various and different work components in color and design are simultaneously coated in even number unit. Reasonable coating production is realized by very few paint consumption and small energy cost.
DRAGON LINE and SWAN robot reduce energy cost
<![if !IE]>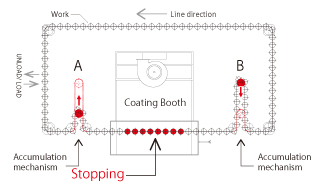 <![endif]>
DRAGON LINE, in which accumulation mechanism is installed at the both sides of coating booth on the line, is able to stop the line only in the booth temporarily. Temporary stop of the line makes it not necessary for the robot to move following the line so that the shortest width of booth can be designed. That means substantial energy cost for sir supply/exhaust can be reduced.
High safety coating booth is realized.
SWAN-S is a 4-axis robot. Because the robot arm does not turn, basically it does not have a safety fence to prevent entry. Therefore, much smaller, simpler and safer design of the line becomes possible.
Options / Related Products
Release date: August 30, 2016