<![if !IE]> <![endif]>
SWAN Extension Attachment
(Extension Attachment for SWAN Pro)
<![if !IE]> <![endif]>
Extension Attachment for SWAN Pro It is possible to correspond to cylindrical workpieces such as lipstick cap, bottle, microphone etc.
Extension Attachment for SWAN
<![if !IE]>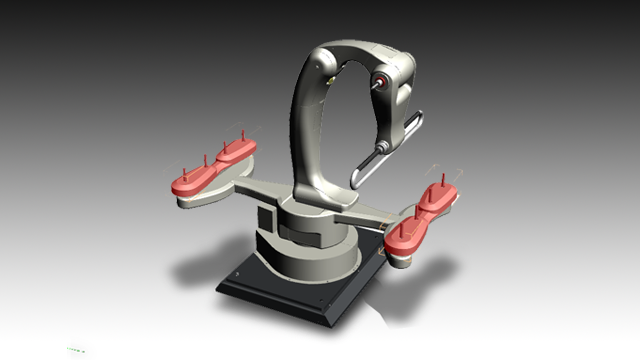 <![endif]>
SWAN Pro performs rotation coating on any workpieces.
 Revolving coating can be efficiently expanded by using the SWAN Pro's W-turn transport unit rotation drive. It corresponds to the coating of workpieces such as bottle, microphone and optical case such as camera lens.
 It is possible to coat cylindrical or small workpieces by using SWAN Pro's W-turn transport unit rotation drive and increasing the number of revolving shafts.
It is possible to coat workpieces such as bottles, lenses and microphones.
Extension Attachment
<![if !IE]>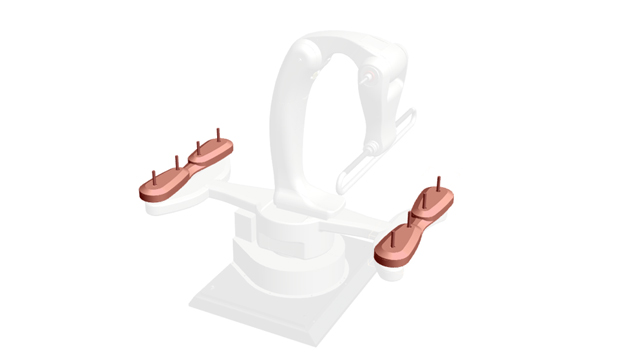 <![endif]>
Sukotti Gun is extended according to Extension Attachment
By attaching Expansion Attachment to the top of the W-turn, it is possible to realize revolving coating of any workpieces, including cylindrical water bottles, microphones, optical lenses and hoods.
Sukotti Gun is designed to be placed on Cross motion bar compatible with multiple guns according to the spindle shaft. Sukotti Gun supports R-technology.
R-technology is compatible with any workpieces.
<![if !IE]>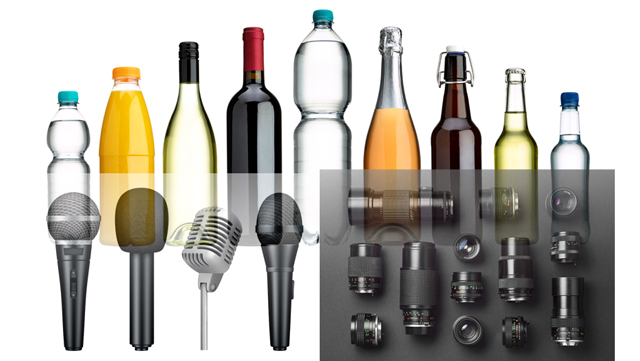 <![endif]>
All small to medium sized cylindrical work components are available. Depending on the idea.
Expansion Attachment corresponds to workpieces with taper such as a water bottle, bottle, or microphone. In addition, corresponds to all types of workpieces including resin, glass and iron materials, such as telephoto lenses, zoom lenses, and rings of cylindrical optical lenses with standard wide-angle lenses.
Revolving Coating R-technology improves the quality of coating, especially when using paints containing pearls and metallics. The amount of paint consumption can also be significantly reduced compared to the popular spindle coating line. High quality coating and low-cost coating are realized simultaneously.
The space is the same size as when using SWAN Pro. There is no need for extra space.
The paint supply system is a standard One-cup system. It arranges the continuous Syringe pump according to the production volume.
It also corresponds to workpieces such as button, smartphone case, tablet PC and monitor. It depends on the idea. This is the essence of R-technology.
Spindle Coating Attachments for lipsticks.
Example of Extension Attachment for Spindle Coating
<![if !IE]>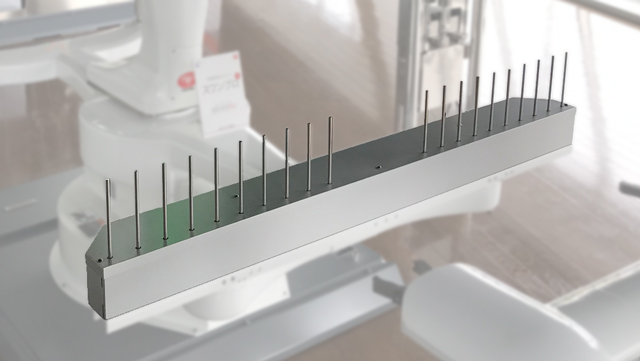 <![endif]>
It realizes mass production with compact equipment.
Extension Attachment for Spindle Coating is an optional tool for mass production of workpieces such as lipstick caps. A small spindle line can be realized with SWAN Pro using SWAN Pro's W-turn transport unit rotation drive.
The installation space of the robot is the same size and realizes spindle coating. It is possible to improve the quality of coating and reduce the consumption of paint.
It improves quality and reduces coating costs.
Revolving Coating of R-technology is the best coating method for lipstick caps. It operates to revolve cylindrical workpieces. And SWAN Pro's spray gun traces workpieces. The multiple coating of thin film shows top performance of the paint and realizes a small amount of paint consumption.
R-technology realizes top performances of pearl or metallic coatings. It is a coating technology that is ideal for cosmetic products.
<![if !IE]>

<![endif]>
Everything is born from a simple idea.
Extension Attachment is realized by applying R-technology with a rational idea and a simple design concept.
<![if !IE]>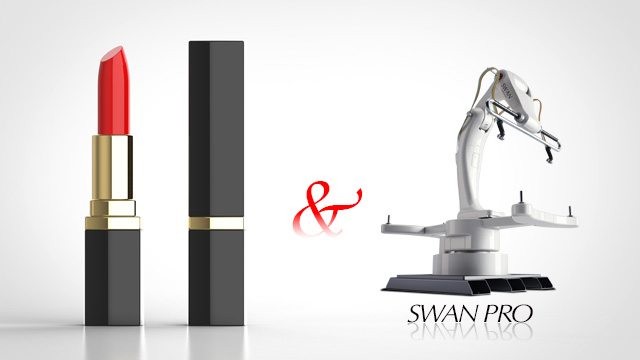 <![endif]>
Cosmetic products and SWAN Pro are the best combination.
Regarding cosmetic products with bewitching renditions, coating is conclusive factor. R-technology and SWAN Pro can solve the problem of how to apply expensive materials optimally without waste, to reduce paint consumption to reduce coating cost and to produce the best coating film.
The multiple coating of thin films by revolving coating improves quality and reduces paint consumption. This is a coating production system that is achieved only by the SWAN Pro robot system that integrates spray guns, SWAN robot, teaching software, and paint supply devices.
Explosion-proof Type Transfer Device for Coating, CoSWAN
CoSWAN is an original transfer device that incorporates an explosion-proof motor. It is an independently developed small-sized explosion-proof motor optimized for the coating environment. <![if !IE]>

<![endif]> <![if !IE]>

<![endif]> Explosion-proof Type Transfer Device for Coating, CoSWAN <![if !IE]>

<![endif]>
Automated coating system realized easily by adding CoSWAN. It enhances production efficiency.
Options / Related Products
Explosion-proof Type Transfer Device for Coating, CoSWANLink to product page
Public relations office, TAKUBO ENGINEERING CO., LTD.
Copyright ©️ 2019 TAKUBO ENGINEERING co., ltd. All rights reserved copying of photos and drawing documents is prohibited.