<![if !IE]> <![endif]>
SWAN™
(Coating Robot)
<![if !IE]> <![endif]>
Independent type robot and W-Turn, both Takubo original, are combined. This is a compact coating robot system dedicated for R-Technology of Revolving Coating.
SWAN, Coating Robot System
<![if !IE]>
<![endif]> <![if !IE]>
<![endif]> <![if !IE]>
SWAN is a coating robot dedicated for Revolving Technology "R-Technology", where the newly developed explosion-proof and independent-type robot and the high accuracy W-Turn are combined together, and is installed with all of the necessary equipments for coating. It is very suitable for Small-quantity and Multi-kind Production, but also it is also possible to manage Automation Operation. It is a coating robot system especially for small and middle size work pieces.
Compilation Robot of Revolving Coating
1.All of the necessary equipments is installed.
2.No need of big site construction works, but just setting and adjustment.
3.One-Cup system is equipped as standard to manage frequent color changes.
4.New Spray Gun has been developed dedicated for Revolving Coating (excellent in terms of Low pressure, Atomization, Even pattern, Maintenance and Coloring.
5.Combination with Explosion-proof Handling Robot (under development)
Features
Coating Robot dedicated for Revolving Coating
High-grade coating is realized by Multi-layer and Thin-film Coating. <![if !IE]>

<![endif]> <![if !IE]>

<![endif]> SWAN, Coating Robot System dedicated for R-Technology <![if !IE]>

<![endif]>
Two work jigs are coated at the same time.
Suitable also for 2-coating specifications such as Under Coating and Top Coating (Option: W-Gun X 2 sets)
Any kind of work piece is acceptable.
<![if !IE]>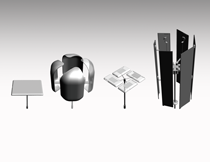 <![endif]>
Suitable for various kinds of components from the small size work such as buttons, switches etc to bigger size such as outside mirror, some internal or external automotive parts and others.
Center Pillar of automotive external part, rather high component, is also acceptable.
Paint is to set by Cup
<![if !IE]>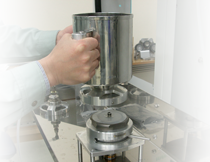 <![endif]>
One-Cup system, originally developed, can make it easy to prepare paint setting and also can decrease waste consumption of the paint.
Syringe Pump built inside can control paint volume by 1 cc unit.
New Spray Gun dedicated for SWAN is equipped.
<![if !IE]>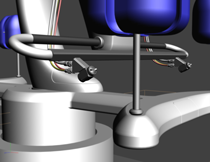 <![endif]>
New Spray Gun dedicated for SWAN is equipped (suitable for 1-coating). It is also suitable for W-Gun type for 2-coating (OP).
Easy High-speed Cleaning
Quick Cleaner, cleaning system with high pressure is used for cleaning. It is easy and good in workability so that the inside of the hose is cleaned very quickly.
Frequent color change work with a lot of colors can be so much improved.
Easy setting and moving because of compact design
<![if !IE]>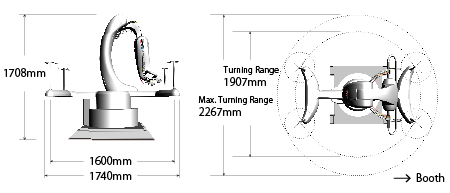 <![endif]>
You can move and set easily by a hand lifter.
Types
Standard Type of 1600
<![if !IE]>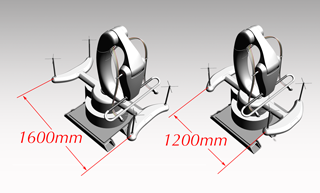 <![endif]>
In accordance with work size and shape, you can choose a suitable moving range of robot to use.
SWAN 1600 Type: Standard
SWAN 1200 Type: Optional
Specifications
Coating robot
| | | |
| --- | --- | --- |
| Body Weight | approx. 680kg | |
| Electric Capacity | AC200V(3-phase),2.1kVA | |
| Pressurized Air | Air Pressure:0.5MPa, Flow rate:400ℓ/min | (Clean and dried air) |
| Loadable capacity | 5kg | |
| Max Gun to equip | 4Gun | |
| Moving Speed | 800mm/s(Axis No.1) | |
| Position repeat accuracy | ±0.5mm | |
W-Turn, Handling device
| | | |
| --- | --- | --- |
| Loadable Capacity | 5kg/table(4TOP), 10kg/table (2TOP) | |
| Distance between the tables | 750mm | |
| Pitch of W-Turn | Standard 1600mm | (Option 1200mm) |
| Rotation Speed of W-Turn | 45deg/sec | (180deg/4sec) |
| Rotation Speed of Table | ±200rpm | |
| Max Work Size | Diameter:500mm, Height:500mm | |
| Motor Capacity | W-Turn:200WPressure Resistant Explosion Proof Motor, Table:200WPressure Resistant Explosion Proof Motor | |
Controller
| | | |
| --- | --- | --- |
| Control axis number | Robot: 4 axes, Work Rotation Device: 3 axes, Paint Supply Device: Max. 2 sets | |
| Teaching method | PTP Control (with interpolation function), CP Control | |
| Teaching method | By PC Package Program Dialog Type | PACK Teaching, Selection of PTP Teaching |
| Display | Color Display 23.8 inches FHD | |
| Data saving method | Flash Disk | |
| External saving method | USB media | |
| Control Panel Weight | approx. 200kg | |
SWANis a registered trademark of TAKUBO ENGINEERING Co., Ltd.