<![if !IE]> <![endif]>
SUPER SPINDLE SS
A super compact robot specifically for coating small items such as buttons or switches
<![if !IE]> <![endif]>
This new version of our super compact robot adds new functions and sports an enhanced design. It retains the ceiling-suspended concept and incorporates in a single unit all devices necessary for performing coating: robot arm, coating material supply unit, scotchi gun, conveyor unit, booth, etc. The new design is sharp and attractive.
<![if !IE]>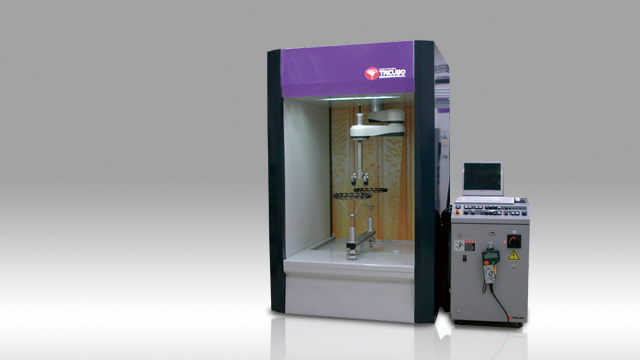 <![endif]>
The system is intended specifically for coating interior automobile parts and buttons or switches for mobile communications devices. It provides unmatched quality, particularly with laser cut work. The robot system supports pack teaching and uses a ceiling-suspended configuration and rotating coating "R-technology" to deliver reduced coating consumption, lower costs, and superior quality with thin coating layers. Stable and consistent high-quality coating can be achieved by sharing coating data generated using the DATA-PRO (DATASS-300). This is truly the global state of the art in button coating technology.
Features
Compact design with minimal space requirements
Data compatibility with DATA-PRO and other SOFTBOY PRO series models
Substantial reduction in coating costs
A production system providing high quality, low cost, and excellent control.