<![if !IE]> <![endif]>
Small Components
(SUPER SPINDLE SS)
Coating Robot
<![if !IE]> <![endif]>
Coating robot for small components is a small coating robot dedicated to coat small components such as switch, button and so on. Robot arm is also designed compact and to save space, which is different from conventional robots.
Small coating robot dedicated to Buttons and Switches
<![if !IE]>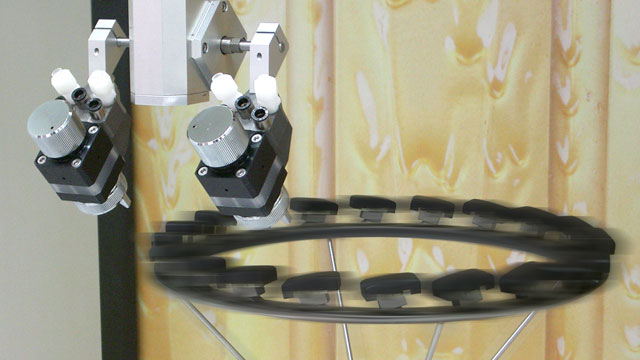 <![endif]>
This small coating robot system is designed dedicated to small component coatings so that it is possible to reduce equipment space and paint consumption volume
Dedicated coating robot to small components, SUPER SPINDLE SS series
Robot to specialize in small-component coating
Ceiling-suspended robot
<![if !IE]>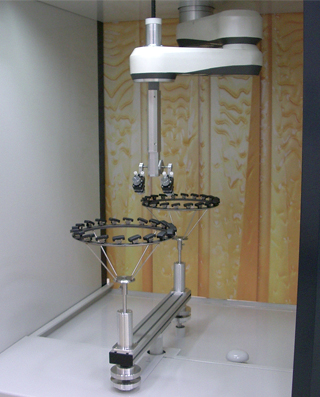 <![endif]>
Following the advantages of coating by suspended method, it has a compact design and also it is safe to make a more efficient coating production.
Coating system for 2 coatings
<![if !IE]>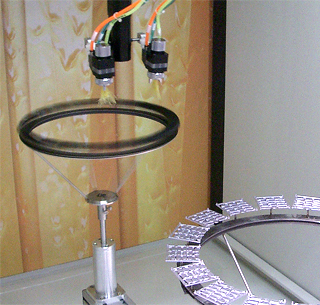 <![endif]>
It is possible to load up to 2 guns. This coating robot can manage 2 coatings such as Base & Top coatings, or A-color & B-color, or something like that.
Revolving coating, R-Technology
High-grade coating and excellent coating-film performance by multi-layer and thin-film coating can be realized. Condition making and teaching work are very easy. Taking the revolving coating, R-technology, you can enjoy real high-grade coating film performance by the high-accuracy controller and rotation equipment.
Compact Design
Robot arm of the suspended method with the minimum required axis number is combined with the rotation handling device of the noncontact type in a compact booth. It makes a coating robot installation area much smaller and also increases workability.
The most suitable for severe requirement in film thickness
<![if !IE]>

<![endif]>
Excellent in coatings for switches or buttons with laser cut
Automotive interior parts
Mobile phones and smart phones
Control switches
Optical instrument
Cosmetic parts
Syringe pump is key to the reduction of coating cost
<![if !IE]>

<![endif]>
Syringe pump, the extra-precision specific-volume supply system, is equipped.
Wasteful paint consumption can be reduced because the paint supply is controlled in 1cc unit.
One-cup system can be installed as option. It will extremely reduce paint to waste.
Quick cleaner (Option) will clean at high speed. Workability will be improved because it can manage color-change or cleaning very quickly with a very short hose. Wasteful paint disposal volume will be also reduced.
Non-contact rotation machine (reference development)
<![if !IE]>

<![endif]>
Non-contact magnetic rotation machine
Rotation function is realized by the magnetic rotation machine. Rotation jig is rotated without any contact so that revolving coating can be completed. Of course both CW and CCW are available.
3-ring coating work stand (reference development)
<![if !IE]>

<![endif]>
3-ring work stand having additional air-blower and drying function
This is handling device for 3-ring with additional work-set, coating air-blower and drying functions (reference development) It makes coating process reasonable, and also increases workability and productivity.
Release date: Tuesday, September 6, 2016