<![if !IE]> <![endif]>
Double-Turn Type
Support for Both Manual and Automatic Operation
<![if !IE]> <![endif]>
This compact model is designed for automated applications. One is used in a set with a linked handling robot for each dolly, allowing per-dolly automated operation. It can be integrated into a fully automated line in future.
<![if !IE]>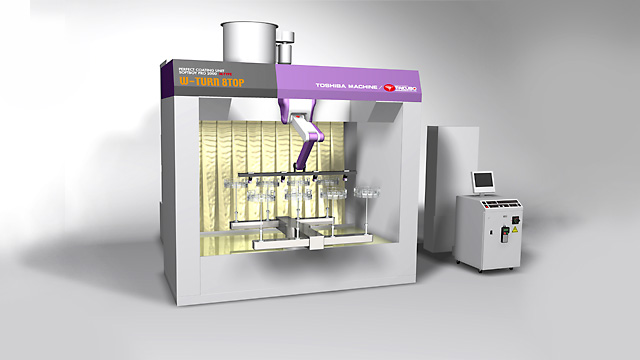 <![endif]>
Multiple guns are mounted and multiple work pieces are rotated on a single robot arm. (The turntable can be set to rotate continuously or for 90° or 180° at a time.) The system can coat batches of work pieces simultaneously or be set up for automated operation. Only minimal installation space is required and the coating quality is excellent, with minimal defects. High efficiency is maintained at low cost. The high-precision conveyor unit and coordination with the handling robot allow integration into fully automated lines.
<![if !IE]>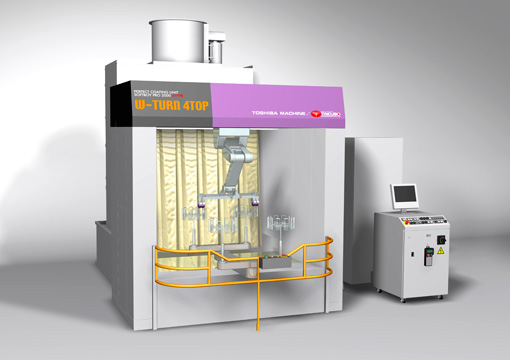 <![endif]>
Features
The rotating jig can turn clockwise or counterclockwise to match the characteristics of the work pieces (90° or 180° partial turns supported).
The coating material fixed volume supply unit (option) provides precise control over the volume of coating material used.
The low-noise, extended service life OIL BOOTH and BOSS2000 collect coating material mist and convert sludge into small solid particles.
Can be installed in a clean room.
Transfer to a new location and expansion are easy.
An excellent solution in terms of coating efficiency, production time, work environment, and coating material sludge management
<![if !IE]>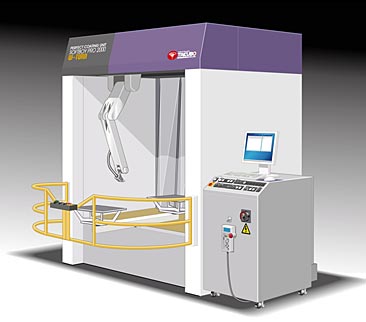 <![endif]>
Coating Data
Coating laptop PC cases : Approx. 15 seconds per work piece
*) Coating time differs due to factors such as work piece type and configuration, coating type, etc.