<![if !IE]> <![endif]>
Single-unit
Coating Robot
<![if !IE]> <![endif]>
From Batch-type with a worker or semi-automatic system to automation-type with a handling robot is the wide territory for this robot system. It is suitable for the small-volume and lots of kind production.
Small-quantity with Multi-kind and the lowest Running Cost
<![if !IE]>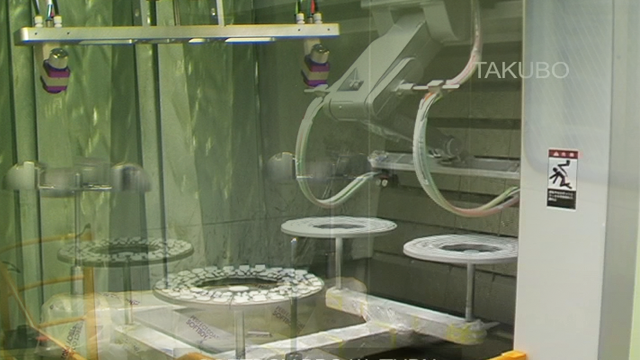 <![endif]>
Single-unit, Coating robot suitable for Batch type production
 This coating robot can manage various kinds of production including batch-type, semi-automation and full automation with a handling robot. One package of robot, booth, gun and controller to manage color expression, coating test, sample test and small-lot with variety-kind production creates a smaller coating facility compared to a continued line.
Roles of Simple-substance Robot
Feature and Superiority of Simple-substance Robot
 The role of Simple-substance Robot is to excellently manage a small-lot with variety-kind production and coating work pieces with a lot of color-change or process-change or similar works. Because R-technology, revolving coating, is installed as a standard, it realizes high-quality production with multi-layer thin-film coating or optimization of paint consumption in deleting waste paint consumption by the syringe pump system.  Because it is basically separated from the line for use, it is possible to make the facility smaller, to keep the conveyor line clean without any paint, to be useful as dust-defect measure, and to reduce the maintenance and running costs substantially.
◎Suitable for multi-kind and small-quantity production
 Because of separation from the conveyor line, it is suitable for the production style of multi-kind and small-quantity of work pieces to be coated by specific paints in order to reduce the stock as low as possible.
◎Suitable for work pieces with many color and process changes
 Usually it takes a long time to change color and process in coating a work with many kinds of color and multi-models. Because TAKUBo's original, Syringe Pump System, is used as a coating material supply system, you can make cleaning or color change operations so quickly.
◎Reduction of paint consumption
 The best quality is realized with optimized quantity of paint consumption because of our Ceiling-suspended robot SOFTBOY PRO, Coating material supply system Syringe Pump, and Revolving technology R-Technology.
◎To prevent paint adhesion on the conveyor line
 Because it is separated from the conveyor line, paint never adheres to the line.
◎Quick and easy coating test
 Because the entire coating system becomes compact, coating test or other operations are managed quickly and effectively. Quality management among the different plants located far with each other is also effectively done because of data compatibility with the Data-pro.
(a little data revision is sometimes required depending on the situation)
◎Every kind of paint is acceptable
 It is suitable for every kind of paint such as baking paint, resin paint, paint with some aggregate, and paint with function.
(We propose appropriate booth and sludge collecting device in accordance with kind of the paint or the production volume)
For Batch-wise
<![if !IE]>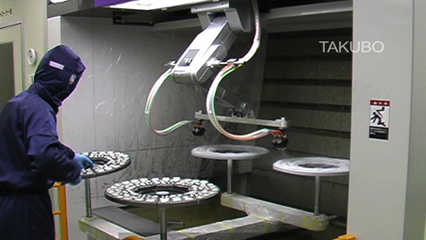 <![endif]>
Worker is in charge of work handling
<![if !IE]>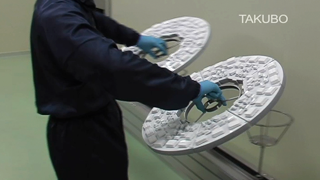 <![endif]>
For Automation
<![if !IE]>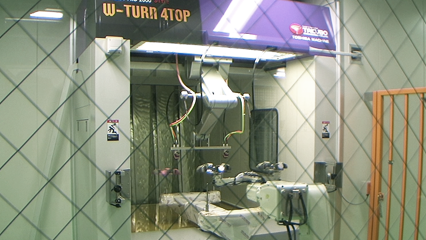 <![endif]>
 Handling robot is in charge of transferring between the robot and the conveyor line.  It turns smoothly and stops gently. Combination between the handling robot and a turn-table is excellent because it has high accuracy.
<![if !IE]>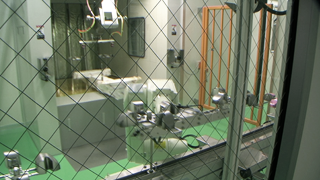 <![endif]>
Adaptable work
The adaptable works are various from the small parts to middle size parts such as head lights.
Kinds of simple-substance robot
W-turn type
4Top (2-gun specification): mainly S-type robot arm is used. 4 revolving devices are installed on one turn-table.
8Top (4-gun specification): mainly M-type robot arm is used. 8 revolving devices are installed on one turn-table.
Station-type
1-station type: Especially suitable for test coating
2-station type: Production and preparation are in a coordinated manner
Super spindle SS
Suitable especially for switches or buttons with small-quantity
Options / Related Products
公開日:2016年8月30日