<![if !IE]> <![endif]>
LINE DANCER
(Coating Robot)
<![if !IE]> <![endif]>
LINE DANCER is a successor robot of the SOFTBOY PRO M-type robot. It can load more automatic guns for more effective mass production by improving the loadable weight of the robot.
High cost performance coating robot for various kinds of production from small-lot multi-kind production to mass production.
<![if !IE]>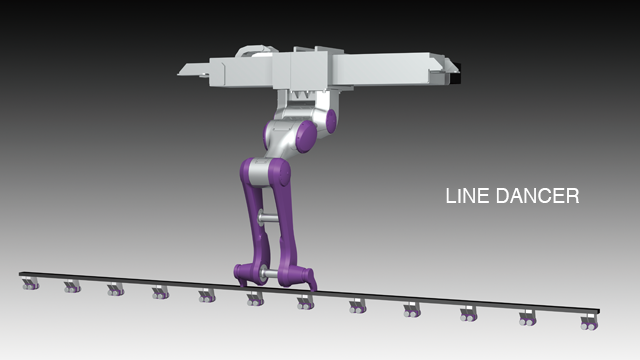 <![endif]>
Control function to manage various kinds of coating data such as coating conditions and teaching data is fulfilled. "LINE DANCER"the coating robot system can manage mass production requirement for any kinds of workpieces such as smart phone, digital camera body, mobile communication devices, automotive parts, cosmetic case cover etc. Using R-technology the revolving coating technology, it is possible to deal with both small-lot multi-kind production and mass production by "Power Joint" the multi-gun attachment.
Lineup
The world biggest class coating robot with max 12 guns mounted on one robot arm, and the most suitable coating system for smart phone cases or covers

The Best Standard for Smart Phone Coating

This compact model is designed for automated applications. One is used in a set with a linked handling robot for each dolly, allowing per-dolly automated operation. It can be integrated into a fully automated line in future.
LINE DANCER
<![if !IE]>

<![endif]>
Coating robot, LINE DANCER
Ceiling suspended type robot, LINE DANCER
<![if !IE]>

<![endif]>
The world's first, a successor robot of the ceiling suspended moving type coating robot, SOFTBOY PRO series. Maximum 12 spray guns are possible to load on a robot. Taking the advantage of the ceiling suspended moving type, it can reduce the coating cost by improving the productivity per one robot. It is mostly suitable for middle or massive production in automatic robotic coating line.
Safe and secure work range because of the hood integral structure
<![if !IE]>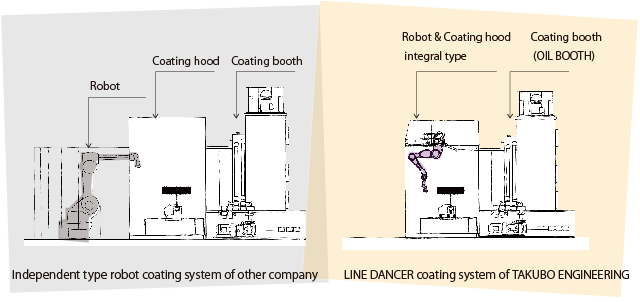 <![endif]>
LINE DANCER is the world's first ceiling suspended type robot system with hood-house integral structure to install in front of the cleaning booth. Because the robot is located in the house, no-entry zone is so small that safe work can be secured.
Coating line not to pollute the working environment
<![if !IE]>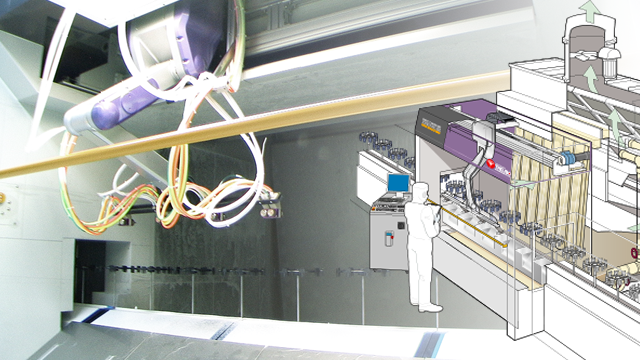 <![endif]>
LINE DANCER robot system, in which the robot and hood-booth are integrated, has no factors of environment pollution and defective product generation by over spraying and also realizes a high quality coating production in a clean working space and circumstances.
Revolving coating, R-technology
<![if !IE]>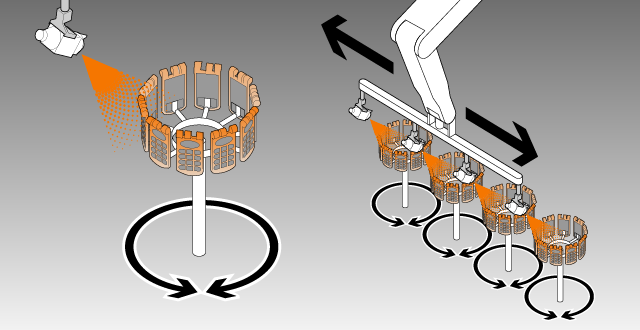 <![endif]>
R-technology is the revolving coating technology developed by TAKUBO ENGINEERING, in which multiple workpieces on the circle jig are revolved in directions of CW and CCW for each jig during coating by robot. Based on the concept of "Thinly, Quickly and Beautifully", the high grade control of modularized peripheral equipment is realized in this robotic coating technology.
LINE DANCER and R-technology could become the solution for all of the problems.
<![if !IE]>

<![endif]>
Reduction of paint consumption
R-technology the revolving coating technology can realize the coating production with substantial reduction of the paint consumption by the fixed supply volume performance of Syringe Pump, the low pressure fine atomization performance of SUKOTTI Gun, and the detailed condition setting of those functions.
Finishing quickly
The basic concept of R-technology is "Finishing Thinly, Quickly and Beautifully". A lot of high-grade control including revolving control, teaching data, gun control, robot control and so on, can generate mass production performances with high quality coating films.
High quality with thin film
Revolving workpieces are applied with the high finely atomized paint which is discharged at low pressure and low amount. Very thin film layers are formed so that a high grade coating film is realized.
Reduction of coating cost
LINE DANCER the coating robot system is an assembly of out technologies such as thin-film multi-layer coating, precise amount paint supply, multiple gun loading, ceiling-suspended robot, control system, easy PAC software and others. This robot system can reduce the coating cost.
Environmental response
Low pressure atomization, multi-layer thin-film revolving coating, teaching software and OIL BOOTH reduce over spraying, and OIL BOOTH enhances the collecting effect and improves the environment.
Management coating
Basics of R-technology is a digital coating. All of the information such as teaching data and condition setting is managed in the numerical value. Coating production is executed under the controlled environment. Using DATA PRO, the coating data can be shared by the robots in the factories dispersed everywhere.
Increase of production volume by multiple gun loading
The loadable weight of robot arm for LINE DANCER is enhanced to 20kg so that it can increase the coating production volume per one robot by loading more guns.
<![if !IE]>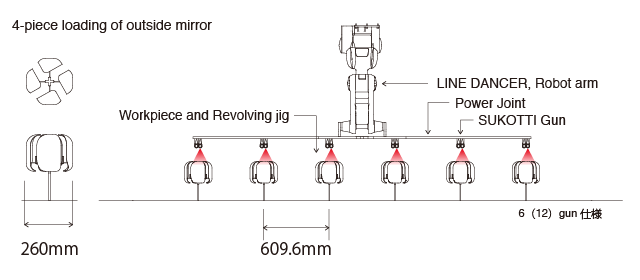 <![endif]> <![if !IE]>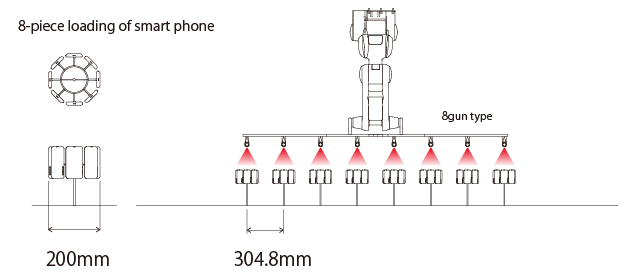 <![endif]>

※ The above image pictures are just examples with gun loading by work component. The specifications change depending on the work shape or production volume etc.※ 12-gun loading type is not a standard specification, but a special order one.
Available for a wide variety of workpieces
LINE DANCER Robot is optimal mainly for workpieces from small to medium size. R-technology is available for various kinds of workpieces in almost every industry. Especially the coating for the products with very severe film thickness and film performance (such as laser cut, pearl, metallic, and high-brightness coating film) is the best target.
<![if !IE]>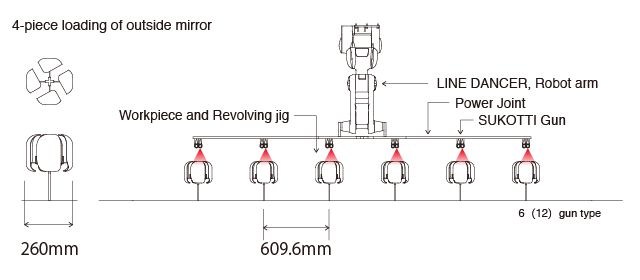 <![endif]>
LINE DANCER & DRAGON LINE
In case that LINE DANCER robot loads many guns, the booth width will be bigger in proportion. The bigger booth will increase the energy cost because of more air supply requirement. DRAGON LINE the new developed conveyor line will not make the booth width bigger so that increase of the energy cost for air supply is suppressed.
<![if !IE]>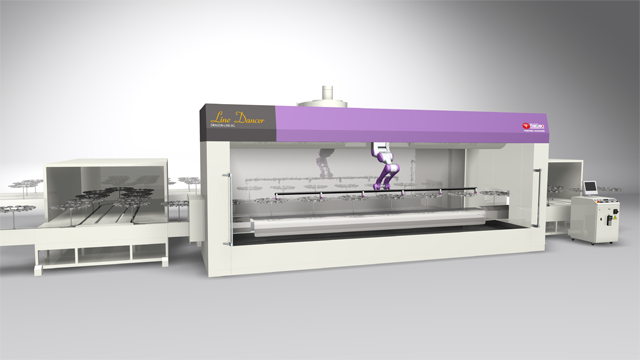 <![endif]>
The accumulation mechanism installed on the both sides (left and right) of the robot will make the conveyor line stop temporarily in front of the booth during coating. That means, the booth width will not be required to become bigger because the robot does not need to move following the conveyor line. The compact booth will reduce the energy cost accordingly with small air supply device.
Related products
DRAGON LINE, Conveyor line to reduce the energy costLink to product page
DRAGON LINE is the conveyor line with the accumulation mechanism. It is our TAKUBO original conveyor line in which the line temporarily stops in front of the booth during coating by robot. The energy cost can be saved without any expansion of the booth width.
Gun Attachment, Attachment to load multiple gunsLink to product page
The attachment to load multiple guns, "Power Joint" Parallel arrangement type, "Turret Gun"(3-gun), "Cross Gun"(4-gun) and other equipment are very effective and useful according to requirement by paint or coating film quality.