<![if !IE]> <![endif]>
Hose-less Robot
(Hose-less Coating Robot)
Next Generation Type Robot System
<![if !IE]> <![endif]>
Our next-generation coating robot systems eliminate coating material hoses, incorporate our exclusive syringe guns, and perform conveying, supply, and spraying as linked operations.
<![if !IE]>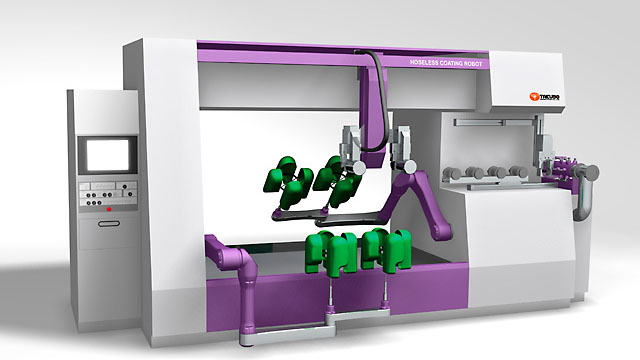 <![endif]>
Our syringe guns, exclusive to Takubo, integrate a Sukotti gun and a syringe pump into a single compact unit.
Designed specifically for coating automobile door mirror cases, this system dramatically reduces coating costs. It enables high quality in an environmentally conscious manner while lowering the coating cost. In future the syringe gun will be conveyed from the coating material chamber via a pneumatic tube. Multiple coating robots and coating material chambers can be linked quickly.
Features
Higher net working rate
Integration of the spray gun and syringe pump into a single unit eliminates the hose for coating material so there is no extra work involved when changing colors, for example.
Better coating quality
The servo motor of the syringe gun alone is sufficient to control the flow of coating material and maintain high discharge precision.
Shorter cleaning time
The guns are always facing the front of the booth, allowing for a narrower booth and making it possible to reduce the amount of mist leaking into the surrounding area.
Labor saving
Loading and unloading of work can also be performed by handling robots, making it easy to build a fully automated coating system.
Maintaining safety of coating material
The use of syringe guns makes it possible to move the coating material chamber to a separate location.
Improved productivity
The system is well-suited to applications requiring frequent coating changes (color changes), such as production of a variety of items in small lots.
Specifications
| | | |
| --- | --- | --- |
| Syringe gun | Gun component: | |
| | Syringe capacity: Approx. 400 cc | |
| Cycle time | 40 to 60 sec./cycle | |
| Syringe gun replacement time | 10 sec. or less | |
| Work change time | 6 sec. or less | |
| Coating method | Revolving coating method (R technology) | |
| Max. jig count | 2 | |
| Work pitch | 457.2 mm, max. 609.6 mm | |