<![if !IE]> <![endif]>
Development Robot
(prototype)
Coating Robots
<![if !IE]> <![endif]>
 The newest coating robots with the latest functions have been developed in accordance with requirements in the market.
Aiming the lowest running-cost
<![if !IE]>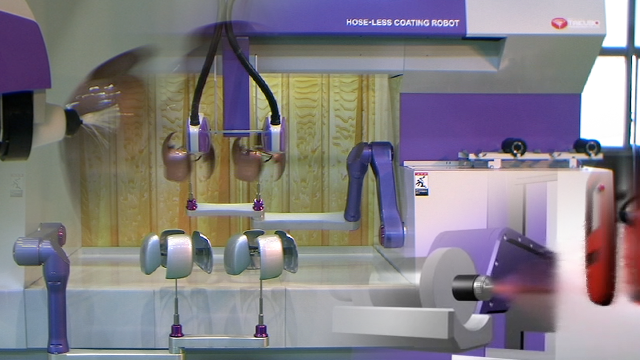 <![endif]>
 TAKUBO ENGINEERING has been developing every kind of coating devices including peripheral machines in order to realize high quality with low cost. Also in order to realize coating film performances required with the change of time, we have been developing various kinds of coating technologies for original robots, spray guns, coating systems and so on.
Robot under development
Next Generation Type Robot System

Our next-generation coating robot systems eliminate coating material hoses, incorporate our exclusive syringe guns, and perform conveying, supply, and spraying as linked operations.

Large Robot System for Coating Large Work Pieces Such as Automobile Bumpers

This large format robot in the SOFTBOY PRO was developed for coating work such as bumpers.

IH Induction Heating Drying System

Jou-lo is a coat baking system by induction heating using electricity.
Coating robot system developed to solve the coating problems
To lose the paint hose 【Hose-less Robot】
<![if !IE]>

<![endif]>
 Pressured paint is sprayed through spray-gun, and revolving work pieces are coated with the paint. There are many hidden problems in the length between paint tank and spray-gun.
You need paint more than originally required
In accordance with the length to the gun, you need pressure (energy) more than originally required.
It takes a time for cleaning.
A lot of cleaning solvent is required.
You need lots of cost for waste solvent and paint.
Technology to lose the hose
【Syringe gun】of tank-integrated model, in which paint is pressured, loses waste paint-consumption and also reduces solvent-consumption for cleaning as much as possible. <![if !IE]>

<![endif]> <![if !IE]>

<![endif]> Structure of Hose-less Robot <![if !IE]>

<![endif]>
Syringe guns are distributed from material room through pneumatic tube so that all of the hose is cleared.
Handling robots with revolving function loses waste movement of the robot and also loses waste paint consumptions.
To coat automotive bumpers 【Bumper-Pro】
<![if !IE]>
<![endif]>
 As Bumper is getting bigger, design in integration of bumper and main body is considered more important. Therefore the high-quality coating is much more required so that you cannot feel any differences of the materials between bumper and body.
 The robot exclusively for such a large size work has been developed to be able to produce with high-quality and low cost
Demonstrating strength of the Ceiling-suspended moving-type robot
The advantage that the ceiling-suspended moving-type can move in horizontal direction more freely than the floor-standing balance-arm type robot is utilized for coating of large-size bumpers. <![if !IE]>

<![endif]> <![if !IE]>

<![endif]> Robot arm for Bumper Pro <![if !IE]>

<![endif]>
The coating material supply system has been established using a lot of experiences in the high-grade coating for mobile-phones or mobile-telecommunication devices. We are aiming reduction of waste coating materials and high-quality as well as low-current home electric appliances.
Now we are trying to shorten the operation time more. It is a Challenge against the time.
Coating technology with Ink jet 【Jet-line】
 Technology has been developed for coating, in which ink is blown off in a micron-unit grain-drop by the special method to form image. In order to optimize this technology, we have been developing further expecting a substantial reduction of manufacturing cost.
Optimized technologies and machineries for coatings
 Desire for richness in the time never stops forever. Always surface processing is contributing a symbolic product timely. As long as personal desire exists, industries follow. Then such movements continue generating technical evolutions and cost competitions.
 Takubo Engineering is always watching the time and what is going on next in order to pursue the special technology, and also to reach the top of TOSODO.