<![if !IE]> <![endif]>
R-11T Gun 2013
Sukotti Gun Series
<![if !IE]> <![endif]>
R-11T Gun Sukotti Gun Series is a custom automatic gun for Softboy Pro series, which is smaller and lighter than conventional guns. Evolution of atomization by low-pressure can be realized and also it is possible to easily coat the inside of coating jig.
Turret Gun and Sukotti Gun, R-11T, exclusively for multi-gun are newly developed.
<![if !IE]>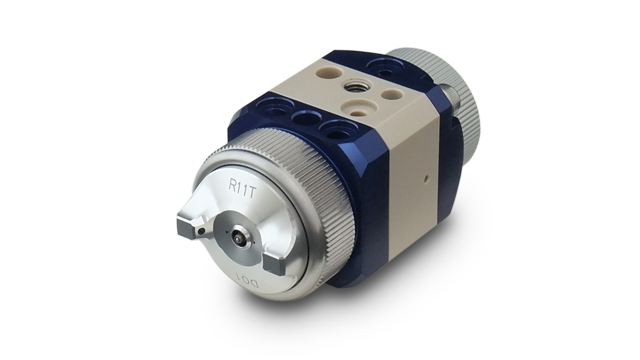 <![endif]>
Much smaller, and much lighter! Decreasing load-burden for the robot with multi-gun can be realized by higher grade designing. Inside coating for the center part of rotating jig during revolving coating becomes much easier and also wider teaching capacity makes coating quality much higher.
Features
<![if !IE]>

<![endif]>
Small and light design
About weight, lighter by about 51% than conventional type R-07T
About volume, smaller by about 39% than conventional type R-07T
Strengthened coating production
Using Turret Gun attachment can make it possible to coat the center of rotating jig, which is very hard to coat by usual way.
Decreasing load-burden for the robot installed with multi-gun power-joint
<![if !IE]>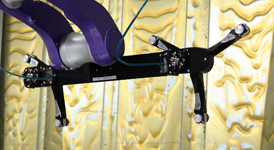 <![endif]>
Super-small spray gun
<![if !IE]>

<![endif]>
Easy maintenance
<![if !IE]>

<![endif]>
Gun bracket
<![if !IE]>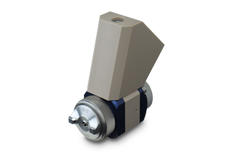 <![endif]>
Dimensions / Weight
| | |
| --- | --- |
| Dimensions | 32 mm × 32 mm × 65 mm |
| Weight | 111 |
Specification
| | | |
| --- | --- | --- |
| Model | R-11T | |
| Product number | T20GR11T | |
| Nozzle diameter | φ1.0 | |
| Air cap | D01 | R-07T Gun Equal to 18-cap |
| Air use volume | 156L/min | (150kPa) |
| Body material | Aluminum, Engineering plastic | Hole for paint |
| Supported coating materials | Solvent, Water | |