<![if !IE]> <![endif]>
R-07T Gun 2007
Sukotti Gun Series
<![if !IE]> <![endif]>
The R-07T automatic gun, part of the Sukotti gun series, is a more advanced version of the R-05T gun that is compact, lightweight, and designed specifically for use with the Softboy Pro.
<![if !IE]>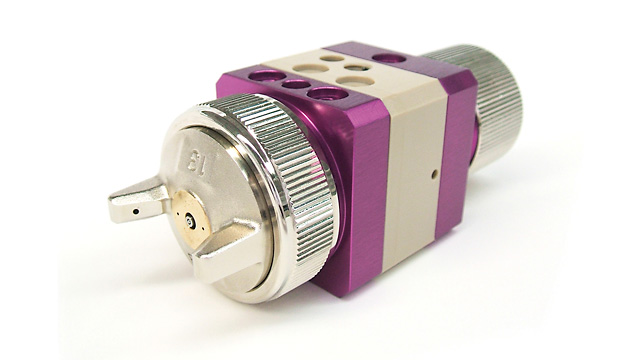 <![endif]>
Ease of maintenance remains the same, and the atomization air volume can be increased to achieve a thinner coating layer. Marvelously mirror-like finishes can be achieved.
<![if !IE]>

<![endif]>
Features
<![if !IE]>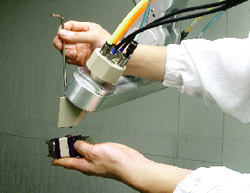 <![endif]>
The gun body is made mostly of aluminum. The compact and lightweight design weighs 228 g.
The compact gun body allows coating of the underside and fine details of the work.
No tubes are connected directly to the gun body, so cleaning and maintenance is easy.
Increasing the atomizing air volume results in smaller coating particle size, enabling use of a larger number of ultrathin coats for a high-quality finish.
The air cap position can be adjusted 90° vertically and horizontally, so there is no need to make adjustments during mounting.
<![if !IE]>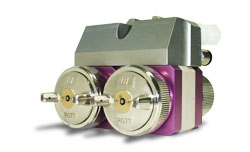 <![endif]> <![if !IE]>

<![endif]>
Dimensions / Weight
| | |
| --- | --- |
| Dimensions | 35 mm × 35 mm × 90.6 mm |
| Weight | 228 |
| | | |
| --- | --- | --- |
| Model | R-07T | |
| Product number | T20GR07T | |
| Nozzle diameter | 1.0 | |
| Air cap | 18 | |
| Air use volume | 156 L/min.(150 kPa) | |
| Body material | Aluminum, engineering plastic (coating material openings) | |
| Supported coating materials | Solvent-based, water-based | |