<![if !IE]> <![endif]>
Gun Attachment
<![if !IE]> <![endif]>
Our gun attachments optimized for Takubo coating systems are available in a range of sizes to accommodate different production volumes.
<![if !IE]>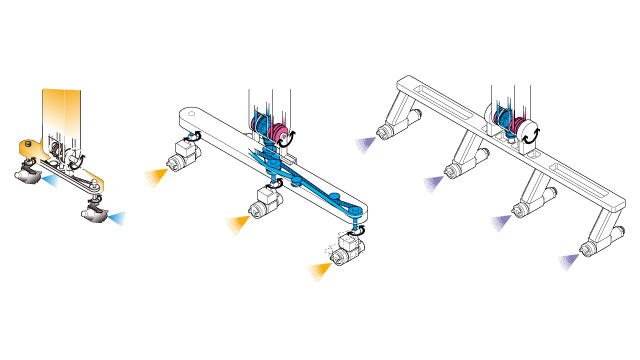 <![endif]>
Lineup
Multiple-Gun Mounting, PRO POWER JOINT

This attachment allows mounting of multiple guns. Boost productivity without adding new robots.

Two-gun, three-gun, four-gun, and eight-gun models are available to match a variety of robot specifications and production volumes.

Attachment to fix multiple guns

Attachment to fix multiple guns is to make one robot take 3 coatings of Under, Middle and Top.

Turret Gun is a triple-gun unit to make one robot system take 3 coatings. It reduces the coating cost for color-change, and realizes multi-kind small-quantity production.