<![if !IE]> <![endif]>
Facility
<![if !IE]> <![endif]>
Questions and Answers regarding Facility
Q for questions and frequently asked A for answers regarding facility relation
<![if !IE]>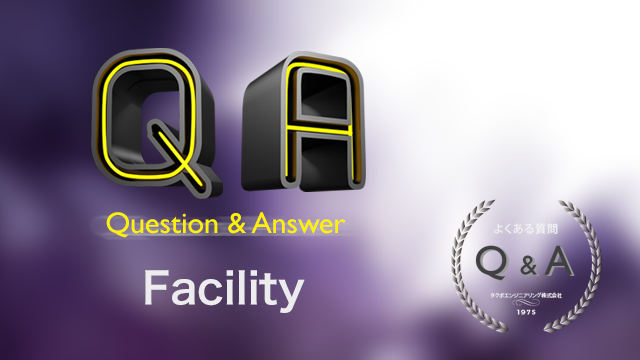 <![endif]>
Q&A about general items regarding facilities such as our cleanroom system, air-conditioning system and others are described.
Features
Products for facility
Clean room system
Boiler-less air-conditioning system
Simple clean room system, 「INTEGRA」
Q&A about the clean room
Q. Is it possible to ask TAKUBO for a proposal of coating system including clean room?
A. Yes, it is possible. Clean room is necessary for the coating production of high-quality products. We will be able to give proposals according to the customer's requirement.
Q. What is a simple style clean room system?
<![if !IE]>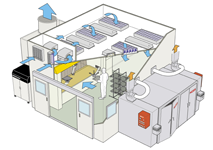 <![endif]>
A. "INTEGRA" is a very simple clean room system. Air supply unit is placed on the ceiling of the coating room using clean room panels. Although cleanliness degree is not so high, it is useful for dust-defect protection with cheaper cost compared to large-size cleanroom system. Additional setting of front chamber or air-shower room will improve cleanliness degree furthermore.
Q. What is a boiler-less air-conditioning system?
A. It is an air-conditioning system not to use any fossil fuel. Considering environmental issues, it is designed to reduce CO2 and VOC occurred from factory. This system has been operated at TAKUBO ENGINEERING TOGANE Technical Center.
General Q&A
Q. Is it possible to purchase facilities such as heat pump in foreign countries?
A. Yes, it is possible. Many Japanese manufacturing companies are advancing overseas so that you could buy even in foreign countries.
Q. Does TAKUBO have any after-service system?
A. We are doing after-service operation based on our TOGANE Technical Center. Also we are managing it overseas taking alliance with some partnership companies.
Release date: July 4, 2017