<![if !IE]> <![endif]>
Mosscoat
Plant-quality Coating Material
<![if !IE]> <![endif]>
Mosscoat is a Thermal barrier and Environment friendly Coating technology developed by the new inorganic coating material, which can be combined with living moss.
<![if !IE]>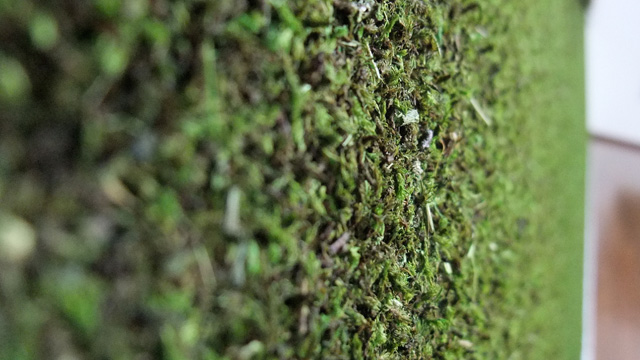 <![endif]>
Outlines
Mosscoat is a new coating technology that we developed, in which the inorganic coating material and moss (Racomitrium canescens) are combined. It is very environment friendly and effective for thermal barrier without any organic solvents.
The name of Mosscoat, it is named by connecting moss and coating.
<![if !IE]>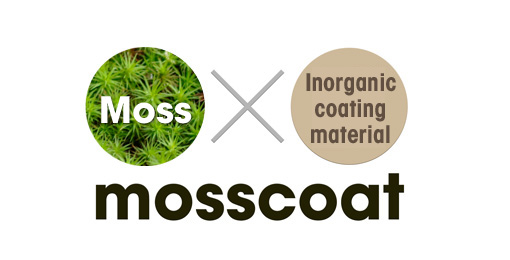 <![endif]>
Mosscoat is possible to use for various kinds of materials such as steel, wood, resin, porcelain and so on. Many usages are expected besides use for Mosscoat panel.
<![if !IE]>

<![endif]>
Features
Mosscoat with an excellent thermal barrier performance brings various kinds of effect.
Mosscoat with an excellent thermal barrier performance brings various kinds of effect.
Environment friendly
Combination of living moss and material is possible by the inorganic coating material with the great features of hydrophilic and porosity.
Excellent thermal barrier effect saves air conditioning energy substantially and contributes to the reduction of CO2.
Superior Economy
Using the moss (Racomitrium caescens) which is very strong in drying, maintenance such as sprinkling and trimming off is not required.
Scene Improvement
Color dyeing is possible with inorganic color clear. Creation of various designs
Bringing nature into the normal life, such as Scene improvement with moss and relaxation effect
<![if !IE]>

<![endif]>
Infinitive Versatility
It is useful for almost every kind of material such as steel, resin, glass and wood so that various performance can be possible.
You can coat on rather complicated curved surface besides roof, interior and exterior walls.
<![if !IE]>

<![endif]>
Why the Moss (scientific name: Racomitrium canescens)?
It is said that the moss was born more than hundreds of millions of years ago and now there are more than 2000 kinds living in Japan. When we developed this new thermal barrier coating material, we studied various kinds of material combination before selecting moss.
At first we thought of using natural material because we could not return it to the natural world at its disposal in case the material was reproduction from PET bottle and so on.
We tried straw, too. It was not successful, however, because it did not grow well and also its penetration of the coating material was bad.
Finally the Moss (Racomitrium canescens) was selected because it could keep growing under very severe circumstances. This combination has brought a lot of great effects.